Hello, Daniela here 👋
I built CtrlAlt.CC to make it easier for you to find helpful tools for startup tasks & now I'm bringing a few cool products to your inbox, every so often.
Let's dive in one more time before the holidays 🏊‍♂️
Product of the week #27
What feels like an eternity ago, during the pandemic, I came across Ryan @rjgilbert's work on my twitter feed and it seemed like such a nice initiative that I just had to reach out and ask for a feature (pretty cool full circle to get to feature his work now in my newsletter 😃)
Meet Workspaces, the place with all the inspiration you'll ever need for your office ⌨️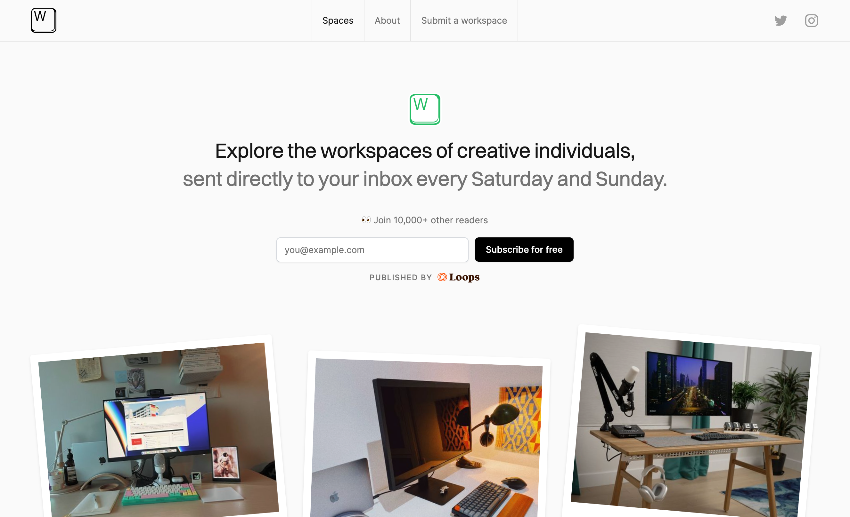 Website link: workspaces.xyz
Workspaces is a bi-weekly newsletter that goes out every Saturday & Sunday, featuring home office setups from all over the world and from all sorts of creative people (from designers, artists & podcast hosts to writers, makers & CEOs)
When remote work started to be adopted (forcefully or not) by more and more companies, people started sharing their home office setups all over social media and Ryan saw an opportunity to capture all of this inspiration in a well crafted newsletter.
Since then, Workspaces grew to over 10k subscribers. Not surprising at all, considering each issue is packed with beautiful photos, a little bit of background about the workspace owner, key items & tools that they use, as well as a few deep dive questions about their setup and how this contributes to their creative work.
So if you are looking to up your home office game or just like looking at nice desk setups, or even if you still need some ideas for stuff to ask for xmas, this newsletter will give you a tonne of inspiration! 🎁🎄
*and in case you are dying to see it, here's my workspace feature & where most of these emails are sent from 😊

And this week the maker story comes from an inspiring designer & developer, turned writer, turned maker 👨‍💻
Graeme's product: prototypr.io
"As a young designer and developer at a big company (for me this was IBM), I was burning the midnight oil building prototypes, designing dashboards and turning them into real working apps that millions of people would use and even appeared in the news sometimes. So cool! I loved it and my parents were really proud.
But at such big companies politics creep in. People take credit for your work, managers push you down a 'leadership' path and then there are the people 'playing the game' for promotions. My teammates were competing against me! 'Frenemies' was even a term used by my manager when I went in looking for support.
All of this frustrated me so much. I just wanted to do good work, and I needed an outlet… so I started writing. That process not only helped me understand what I was going through, but it turned out people really enjoyed reading it! Back when Medium was full of quality articles from tech wizards and thought leaders, this little guy was at the top. That's when it hit me that I might be pretty good at this! In fact probably out of all my skills, it's what I discovered I'm best at, and should be doing most – just writing, from the heart.
But I also had the right people about to give me pointers, like Rachel Sibley (now at Leap Motion) was a genius writer and editor at IBM who helped me improve. Whilst learning from her and others, I started my own publication – Prototypr! Through consistent writing and curation, it quickly built up a following 10s of thousands of readers, becoming one of the top publications on the Medium platform. Eventually, I took the leap to work on it full-time thanks to weekly newsletter sponsors, and the encouragement of people around me.
Then one day that all changed. Medium became swamped with low quality SEO blog posts, life hacks, and then finally, a paywall…and then this old add-age came to mind: "Don't Build your House on Someone Else's Land"
At that point, I knew I had to start my own design blogging platform, that would be open and free to read. A very long story short, that's where we are today! Prototypr is a product of passion, fun and creativity, born out of curiosity and also frustration. Last year I received a flagship grant from Interledger/Grant for the web to pursue it further – building it into an open-source, inclusive design platform with an alternative business model that ensures people less fortunate can access the knowledge and learning materials that can unlock opportunities.
This was not a typical maker story, because although money is important, my journey never really focused it, nor status – just a burning passion to make. Over the next year, I hope to turn Prototypr into a platform that thousands of creators can benefit from – and we're very nearly there with Prototypr 4 around the corner 😉"
Check out Graeme's tools stack ↓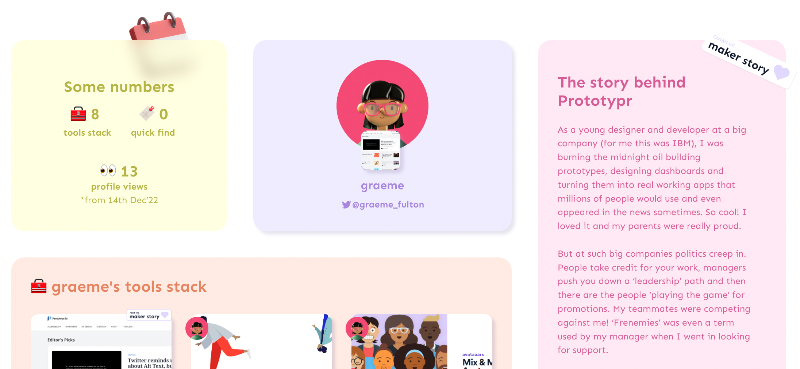 Until next time you can find me on twitter @nerddoingsocial 🐦

And if you know someone who would enjoy this newsletter, it would mean a lot to me if you can forward it to them too 😊

PS don't forget to check out today's cool product ✌️

Daniela
_______
Founder & Maker