Hello, Daniela here 👋
I built CtrlAlt.CC to make it easier for you to find helpful tools for startup tasks & now I'm bringing one cool product to your inbox, every so often.
Did this a couple weeks in a row, then skipped one and here we are again!
Product of the week #3
This is the 1st request for a featured product everybody!! 🙀 Quite exciting!
I have been using this tool a few months back and then stopped my subscription as I felt it was starting to kill more of my time than it was saving. BUT as I lately found out on a chat with it's maker @michalmazurek_ , I was actually using the tool all wrong 🤦‍♀️ (makes you wonder how many times this actually happens without such happy endings)
We chatted marketing, twitter, reddit, ahrefs, longtail SEO & how this tool initially started as a side project to help with marketing his main product and it's now a healthy product that helps a lot of users every day.
This product is called Syften!
Link: syften.com
It's a social listening tool that makes it super easy to keep an eye on conversations that you can join across.. pretty much the internet.
It basically helps you do marketing in a non-salesy way by building trust on the platforms that your audience uses, which will in turn help with getting more customers.
Pretty simple recipe, but as opposed to other social listening tools (that are mostly targeted at big companies) it gives you access to everything you'll need without the extra unnecessary complexity. And to make things even handier you can set it up so that it brings stuff directly to your inbox / slack!
How I was using Syften wrong (& how you should use it instead)
On our chat when Michal was showing me how he uses Syften, he mentioned something super interesting. He said "I monitor answers not questions" – which (the 1st part) is exactly what I was doing.
I basically set up a few filters for twitter that would bring matches for generic terms like "SaaS" to my inbox – you can imagine how many matches I would get & how I would spend quite a long time to go through them & see which ones I could engage with, if any. It got to the point that it was taking so long, that I built a tool to fix it 😅 (but more on that some other time)
So looking at it from this new pov, Syften has so much newfound value that I reactivated my subscription the day after and been finding that it's now bringing through actually relevant stuff 🎉
Now bc I found this chat so helpful (& bc outside of building CtrlAlt.CC I do UX design for a living) I made a quick mockup for Syften's landing page, to help the site visitors visualise what Michal described to me. Keep an eye on it for updates! (But this is a sample, with Michal's permission):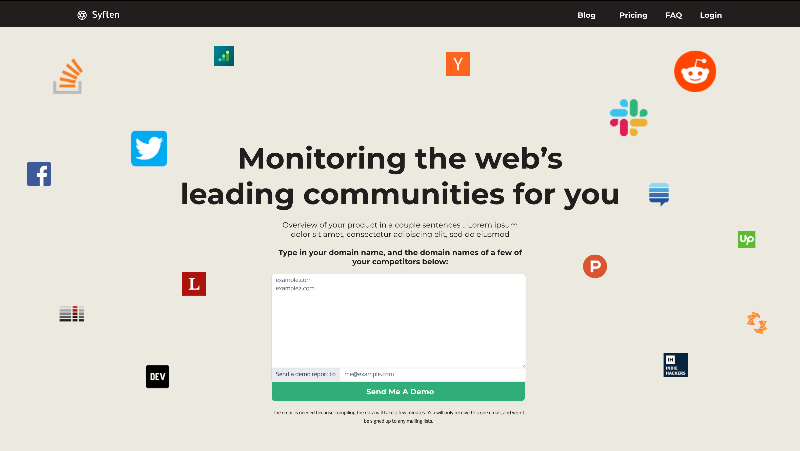 Also you can find Syften featured on the CtrlAlt.CC dashboard when you login next!
Until next time you can find me on twitter @nerddoingsocial 🐦

Also if you want your product featured in one of the next emails give me a shout 😊

Daniela
_______
Founder & Maker