Hello, Daniela here 👋
I built CtrlAlt.CC to make it easier for you to find helpful tools for startup tasks & now I'm bringing a few cool products to your inbox, every so often.
This is the first issue of '23 🥳 and also the last issue in this format 👀 Don't worry the good bits are staying, the content is just gonna be a bit more democratic (as promised) and a bit easier to scan 😊
Now let's have a look at what's going on this week!
Product of the week #29
Making the newsletter more democratic meant making it easy for everybody to submit their suggestions and so, automating a lot of the processes that were done manually before.
Meet ScreenshotOne 📸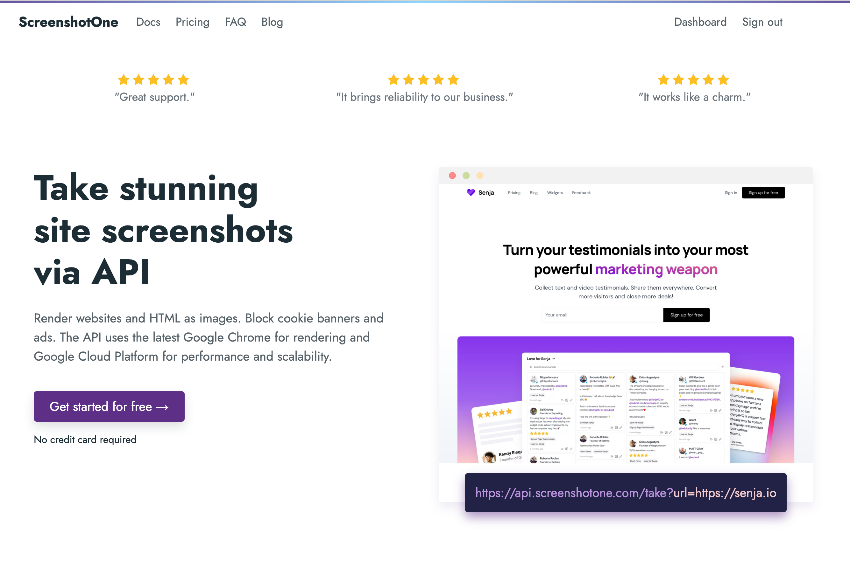 Website link: screenshotone.com
ScreenshotOne is made by Dmytro @DmytroKrasun and it helps you automate taking screenshots with very specific parameters (even if you need animated screenshots) through a simple API call. The API is very easy to integrate into all sorts of applications – anything from Java, Node.js & Go to PHP, Python & Ruby.
And as you've probably guessed it, I'm now using ScreenshotOne to take screenshots for the new tools submitted to the directory.
This means that you can now share any helpful tool that you've been using, as well as launch your own product in the directory, much easier! You can also log articles that you've written and new features that you've built, and they will all appear in the timeline + your own profile, looking similar to this ↓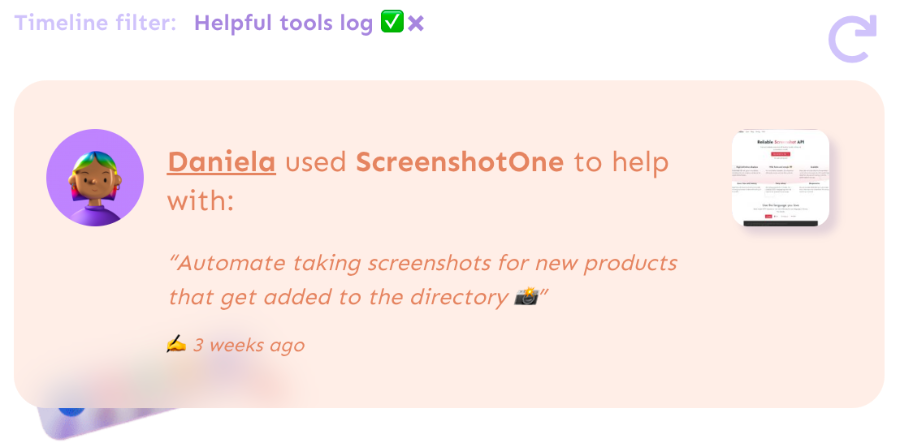 So from now on, thanks to ScreenshotOne and a few other automations, the "product of the week" will be one of your submissions!
And the best part? There will be no voting, but the more a product is logged the more likely it will become "product of the week" for that week. So, let the games begin 🤩
📢 Now a special shoutout to:
Yun @yun_dev1, who's created a great resource for indie founders that you can find here.
Alison @heyallieson, who's writing the Design People newsletter and has recently interviewed me here.

And this week's maker story comes from 2 makers who became experts at launching and are now getting others to share their secrets too Karthik & Nithin's newsletter: thebigbanglaunch.substack.com
"We've built 5+ products in the past 1 year. And one of the problems we have constantly kept on facing was launching on product hunt.
Launching on a product hunt used to be very stressful and for each and every product launch we used to waste countless hours of time. But even after so much effort, we wouldn't be able to get more than 40-50 upvotes. This was extremely frustrating. And we didn't want to see the same poor results for our next launch. So for our next launch (Drotion) We decided to scrap everything and start planning our product hunt launch from scratch. We reached out to the top creators on Twitter. Started copying their launch strategies, And then during launch day, Drotion hit #3 of Product Hunt.
Drotion launch taught us that ranking in the top 3 of product hunt is no luck. And anyone can achieve it with the right planning and strategies. That's when we decided to interview creators behind the top 3 products on the product hunt and share their launch secrets in "The Big Bang Launch Newsletter". By reading our newsletter, new founders can use the exact step-by-step strategy behind the top launches on Product hunt to get the maximum upvotes for their product & get featured on product hunt.
They can learn: How to plan a product hunt launch? Do they need to have a hunter? What tools can they use for a launch? What are the strategies to build buzz for the launch? Challenges they'll face & how to overcome them?
To sum up, The Big Bang Launch Newsletter will help make your next launch a Big Bang Launch on Product Hunt."
Check out their profiles here ↓
Karthik's profile: ctrlalt.cc/profile/karthik/
Nithin's profile: ctrlalt.cc/profile/nithin/
PS: Don't forget to check out today's cool product for you (bonus: it will be added to the timeline if you are logged in 😊 ) ↓

Daniela (@nerddoingsocial 🐦)
_______
Founder & Maker