Hello, Daniela here 👋
I built CtrlAlt.CC to make it easier for you to find helpful tools for startup tasks & now I'm bringing a few cool products to your inbox, every so often.
Let's dive right in 🏊‍♀️
Product of the week #23
So I'm still experimenting with video and not yet sure what direction this is gonna go, but excited to play around with some cool tools in the process and see if I can get something to click!
A few issues ago we've looked at a video editor that allows you to do all the basics really easily. Well this time we are gonna dive a bit deeper and look at advanced editing, with a sprinkle of AI magic ✨
Meet Runway, where video + AI = 💜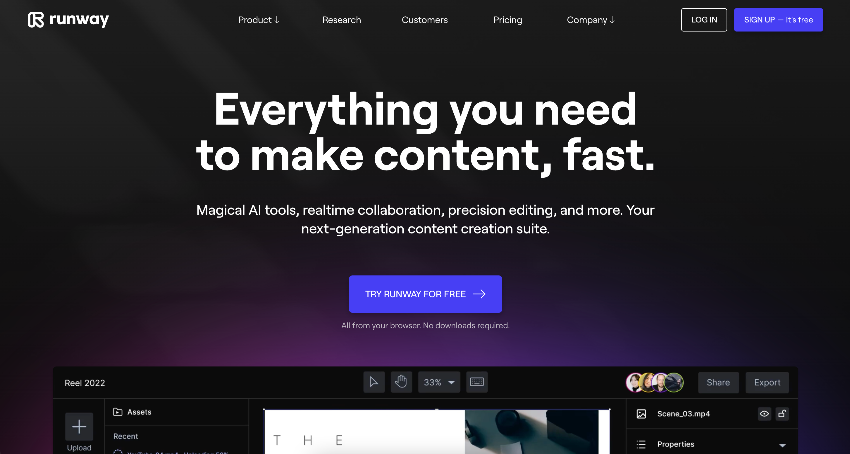 Website link: runwayml.com
Warning, this product is a rabbit hole! 🐇 🕳 (the good type). There are a lot of things happening in AI right now and Runway have it covered on all fronts – video, audio, image & text.
To start with, you can try out a few "standard" things, like generating an original image from a prompt, transcribing a video or making your audio input sound cleaner. Or you can dive a bit deeper and I think this is where the real fun begins 👀
I uploaded a test video and straight away the UI of the editor is very intuitive (always a sign we're off to a good start). It has all the advanced video editing that big names like Adobe provide, but it looks clean and like if I click on something it will do what I expect it to, without having read an encyclopedia sized instructions manual beforehand.
But besides allowing you to add filters, animations, stitch multiple videos together, add new audio, layer images, text & shapes across your original input, you can also do stuff that I, for one, haven't seen anywhere else yet. Like mask a moving element and remove everything else in the background creating a greenscreen effect, meaning you can add your own sci-fi video background and almost produce a new Star Wars directly from your browser!
Or you can do the opposite and mask an element that you'd like removed from your video instead! Remember that Starbucks coffee cup in that Game of Thrones episode? Well with this tool it would've been like it never existed, without any frame needing to be re-shot. Sorcery, magic, money saving, all of the above 🤯
So if you are looking to do some advanced video editing, or if you've just got some spare time and wanna see what all the AI hype is about, then take a leap and jump down this rabbit hole! You'll not regret it 😉

And this week's maker story comes from Siddhant, a maker who's helping other makers build their SaaS faster!
Siddhant's product: geniepy.com
"Hey 👋🏼 I'm Siddhant and I'm the maker behind GeniePy.
GeniePy is a boilerplate for building SaaS products that lets you set up a new, fully functional SaaS in just a few minutes. Why did I build GeniePy? There is a short story and there is a long story. 🙃 The short story is I got tired of having to write the same code in a different context over and over again.
The long story is that I like to build things and I have a lot of ideas in my backlog, some of which are SaaS products. As you probably know, every SaaS has a baseline set of features that includes basic things like user management (eg. ability for users to be able to register, login, logout, reset their passwords, etc.), and some not so basic but essential features like payments, file uploads, transactional emails, etc. And on top of that, there are enhancements like an SEO optimized blog, pushing updates to the user in real-time, easy and standardized deployments, error tracking and monitoring, so on and so forth.
If you're building a SaaS, none of these features have anything to do with your core offering. But you need to build them anyway because they form the foundation of almost every SaaS on the planet, including yours. And building these features in a robust manner can easily take 4-6 months of focused development work. This is exactly what made me build GeniePy. The minute someone buys GeniePy, they have a fully functional SaaS application running on their machine, which they can start adjusting with their own business logic. This lets them build their product quicker and get to market quicker, in turn giving them a clear advantage over their competitors.
My goal with GeniePy is to make it easy to build SaaS applications, especially for software developers who prefer to use the Python programming language 🐍. And I'll continue extending GeniePy to be one of the most featureful and robust boilerplates that you can use to kick-start your own SaaS.
Thanks for checking it out, and if you have any feedback or feature requests, you can find me on Twitter at @siddhantgoel or send me an email at me@geniepy.com!"
Go ask Siddhant any questions you might have ↓ 👀

Until next time you can find me on twitter @nerddoingsocial 🐦

And if you know someone who would enjoy this newsletter, it would mean a lot to me if you can forward it to them too 😊

PS if you haven't yet, don't forget to check out today's random product ✌️

Daniela
_______
Founder & Maker