Hello, Daniela here 👋
I built CtrlAlt.CC to make it easier for you to find helpful tools for startup tasks & now I'm bringing one cool product to your inbox, every so often.
So far I've been picking a product I liked using lately and shared how it's been helping me and how it can hopefully help you too.
But now that we've crossed 10 issues, I want to democratise this process a bit. So from now on, the product of the week can be picked by you 👀
If you're using a tool that helps with your startup tasks and think it can help others too, lmk & let's get it featured next 🙂
As for this week's product, let's dive in 🏊‍♀️
Product of the week #11
I've been using this tool for a while now and it's actually how I kept track of useful startup tools, before I built CtrlAlt.CC!
Meet Raindrop ☁️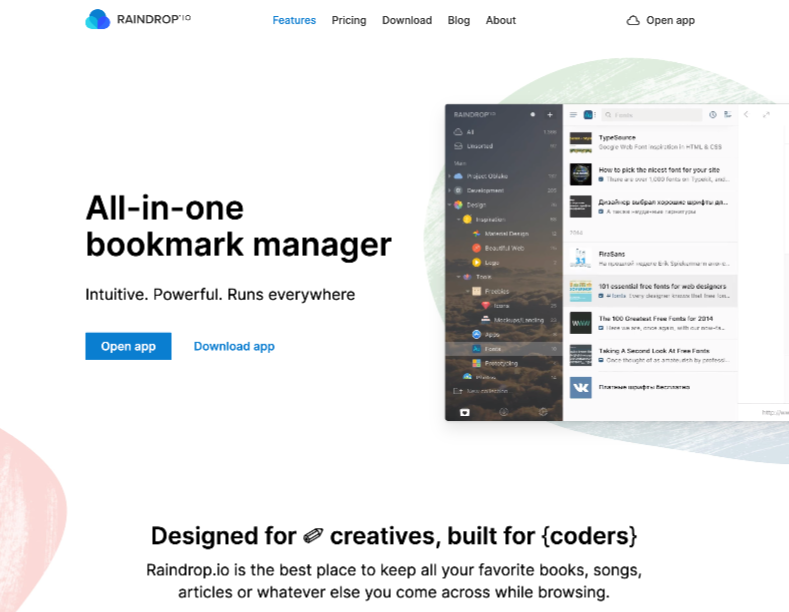 Website link: raindrop.io
A super handy cross-device bookmarks manager made by Rustem Mussabekov
It's so much part of my day-to-day life now that I can barely remember the time before Raindrop 😅 but it went kinda like this: I used to use the bookmarks feature in chrome 😬 and because I am a fan of rabbit holes, I ended up with sooo many folders and sub-folders full of random stuff (with even more random names) and no easy way to actually find anything.
So one day I binned most of those bookmarks, moved the rest to Raindrop & never looked back!
Its focus on UX makes it really easy to save anything, with as many details as you want, really quickly. You can put the bookmarked page in a folder, add tags to it and even save just a bit of text from that page by highlighting it.
It has great search & filtering feature that makes it really easy to find what you are looking for in a few seconds and it also let's you see a preview of the page before deciding if this was the link you were actually looking for.
It comes in a chrome / firefox / safari extension as well as iphone & adroid app and has a free plan that gives you access to all the basic functionality as well as a pro plan full of a bunch more features, like annotating your highlights or nested collections.
A really useful tool that will save you loads of time and help you Marie Kondo your bookmarks!

This week's maker story comes from Soheil, who's made a really helpful tool for anybody building a community
Website link: meetingplace.io
"Meeting Place was created to make it easy for event organizers to build and promote their events and grow their community. From book clubs, student groups to tech community.. organizers use Meeting place to manage their gatherings and plan their next events.
When covid happened, many events got cancelled and a lot of them went virtual. This was not easy and it required us to rethink and provide options that are flexible and events that could update at anytime.
Our goal is to make the event management process easy, simple and intuitive and help you organize great get togethers with members of your community."
You can check out Soheil's CtrlAltCC profile and find out what tools he likes using ↓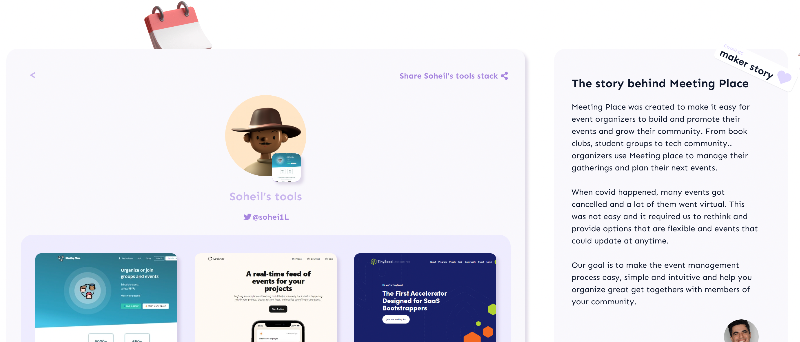 Link: ctrlalt.cc/profile/soheil
.. and you can also make your own profile if you want to show what tools you've been using for your own tasks!
Until next time you can find me on twitter @nerddoingsocial 🐦

And if you know someone who would enjoy this newsletter, it would mean a lot to me if you can forward it to them too 😊

Daniela
_______
Founder & Maker