Hello, Daniela here 👋
I built CtrlAlt.CC to make it easier for you to find helpful tools for startup tasks & now I'm bringing a few cool products to your inbox, every so often.
Let's have a look at what's going on this week!
Product of the week #24
With everything AI nowadays and so many cool projects popping up every minute, I feel like it would almost be unfair to switch up the topic – so we'll be sticking with AI for one more week 😃
Meet PromptHero, your text-to-image AI sidekick 🦸‍♀️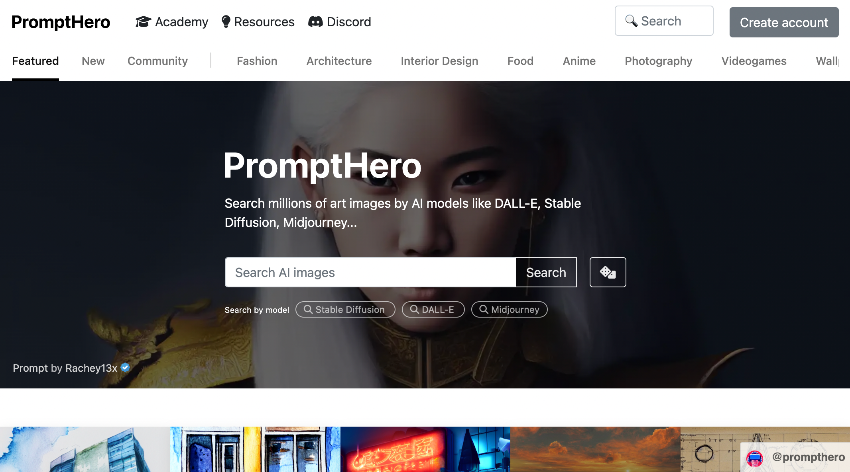 Website link: prompthero.com
If you had a play around with any text-to-image AI tools, you probably know by now that talking to AI is pretty much an art in itself! PromptHero, created by @rameerez, makes this easier with a collection of text-to-image prompts that will solve your AI blank canvas syndrome & help you generate your own beautiful images in no time.
You can start by searching the collection for a keyword or filter it by category or AI model and boom – an endless amount of images generated by other people will be displayed. Pick one that tickles your fancy, open it up and unveil it's secrets! 👀 Now adjust this prompt to your needs, add it to your favourite AI tool and voila, you've now generated an equaly impressive image yourself 🖼.
Here's an exmple of one that I've tried ⬇

The 1st image is from PromptHero. I've then used the same prompt to generate the 2nd image myself, then changed up a couple things (like Megan Fox ➡ Elon Musk) to get the 3rd image 🤩. Pretty impressive result!
And if you want to take it one step further, you can easily get lost down some rabbit holes by clicking parts of these prompts and pretty much reverse enginner the human to AI chat. You'll quickly start learning what bits influence the image generation and in what way. It's a lot of fun! So if you also love playing around with these new AI tools too, definitelly give PromptHero a go 😉

And this week's maker story comes from 2 makers who want to help developers in their entrepreneurial journey!
Zubair & Noman's product: saaswisdom.com
"Hello there, we are Zubair and Noman trying to build SaaS Wisdom. A cohort-based community of software developers who are working on their side projects
While running a Dev agency for several years, I got to work with many software developers. One thing I noticed is that developers are good at programming. They develop the skills required to build a full-scale SaaS Application as they grow in their career. Like everyone else, they have startup ideas, and they also have the skills to build the products. But I have seen, developers in general are not well versed in business, marketing, and growth aspects of a startup
We wanted to address this pain point and help developers become entrepreneurs. SaaS Wisdom is a Cohort Based Course (CBC) specifically designed for software developers. This course gives them a step-by-step roadmap of how to build, launch and grow their side projects. It's a 30 days Cohort, where a developer learns through live sessions, peer reviews, assignments, collabs, and more. We want developers to feel at home, so this course is beginner friendly. It is being designed by industry experts focusing on explaining business concepts and marketing frameworks in simple language. We will also try to ensure that we are answering the queries of all the students and conducting 1v1 sessions.
Creation of a valuable course content, creation of cohort plan, building a pool of candidates, building the community, engaging with the community etc are the real challenges that we came across in the process. We have just opened our early beta and the applications for the first batch. This batch is completely Free for our students, where we are going to shortlist the candidates from the applications received.
All the applications get the Lifetime access to our Communities on Slack & Discord."
Check out Zubair's tools stack ↓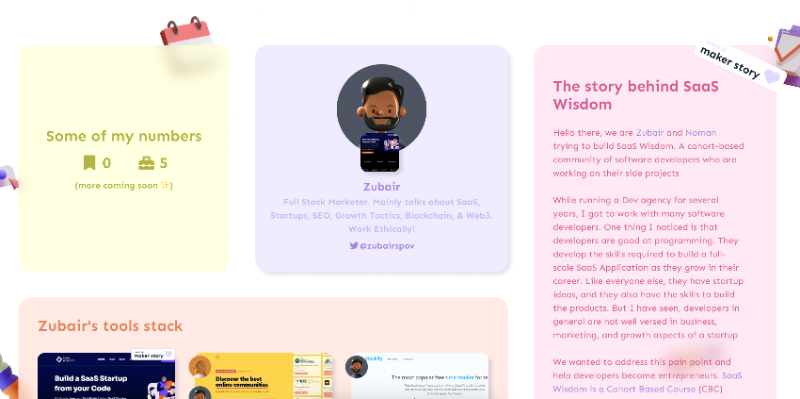 Until next time you can find me on twitter @nerddoingsocial 🐦

And if you know someone who would enjoy this newsletter, it would mean a lot to me if you can forward it to them too 😊

PS don't forget to check out today's random product ✌️

Daniela
_______
Founder & Maker