Product of the week #23
So I'm still experimenting with video and not yet sure what direction this is gonna go, but excited to play around with some cool tools in the process and see if I can get something to click!
A few issues ago we've looked at a video editor that allows you to do all the basics really easily. Well this time we are gonna dive a bit deeper and look at advanced editing, with a sprinkle of AI magic ✨
Meet Runway, where video + AI = 💜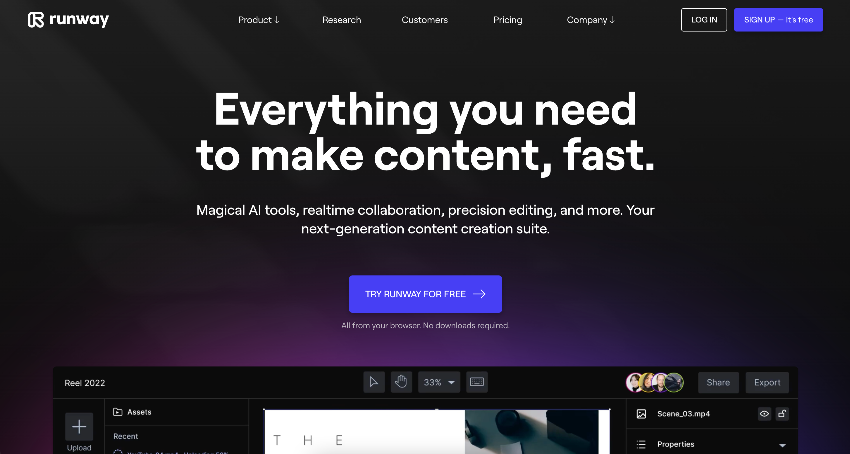 Website link: runwayml.com
Warning, this product is a rabbit hole! 🐇 🕳  (the good type). There are a lot of things happening in AI right now and Runway have it covered on all fronts – video, audio, image & text.
To start with, you can try out a few "standard" things, like generating an original image from a prompt, transcribing a video or making your audio input sound cleaner. Or you can dive a bit deeper and I think this is where the real fun begins 👀
I uploaded a test video and straight away the UI of the editor is very intuitive (always a sign we're off to a good start). It has all the advanced video editing that big names like Adobe provide, but it looks clean and like if I click on something it will do what I expect it to, without having read an encyclopedia sized instructions manual beforehand.
But besides allowing you to add filters, animations, stitch multiple videos together, add new audio, layer images, text & shapes across your original input, you can also do stuff that I, for one, haven't seen anywhere else yet. Like mask a moving element and remove everything else in the background creating a greenscreen effect, meaning you can add your own sci-fi video background and almost produce a new Star Wars directly from your browser!
Or you can do the opposite and mask an element that you'd like removed from your video instead! Remember that Starbucks coffee cup in that Game of Thrones episode? Well with this tool it would've been like it never existed, without any frame needing to be re-shot. Sorcery, magic, money saving, all of the above 🤯
So if you are looking to do some advanced video editing, or if you've just got some spare time and wanna see what all the AI hype is about, then take a leap and jump down this rabbit hole! You'll not regret it 😉