Hello, Daniela here 👋
I built CtrlAlt.CC to make it easier for you to find helpful tools for startup tasks & now I'm bringing one cool product to your inbox, every so often.
Been a while (finally took some time off away from tech ☀️) but I am back now, fully recharged 🔋 and ready to dive straight in!
Product of the week #4
This product is at the very beginning of its journey and looking super exciting!
As it happens with a lot of other tools that end up doing great, this started as a side project meant to help with another goal. In this case, my friend @panphora started it in a bid to get a job! I know. Not the most usual route (and not one that I would take myself), but there are endless ways to get where you wanna go & you just gotta find your own.
This is not David's first rodeo though – he's made quite a few products in the past & lately did 31 projects in 31 days, back in January.
Now let's meet his latest creation, Polite Pop!
Demo link: cdn.politepop.com/demo
Early adopter signup: signup.politepop.com
As the name implies, Polite Pop will be a widget that you can add to your blog (and probably website in general), which will help you capture newsletter signups in a less disrupting & more polite way.
It will wait until the reader has been on the page for a while and read enough of it before a non invasive and very friendly mascot asks them if they would like to see a pop-up where they can sign up. Giving readers this choice can be very powerful!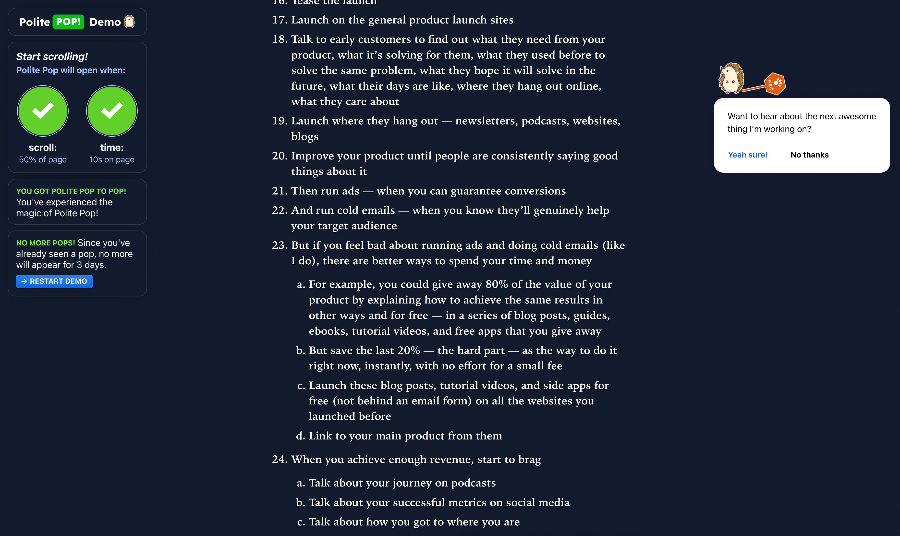 Also really love the idea of creating something that makes tiny ripples, which could lead to larger metaphorical waves. When testing the Polite Pop demo that's exactly the impression that I got. It feels like a solution for making the internet (or at least a part of it) shout a bit less at you. Quite an accomplishment!
Besides being a cool product this is also a great segway into some news!
As many people seem interested in the early adopter stage of products & the rewards that you can get as an "early bird", I am now working on bringing some focus to these products on the platform.
In the meantime, until I figure out the best way for this to work (your inputs are super welcome!), I've made it a bit easier for you to keep up to date with the latest tools that have been added to CC 😊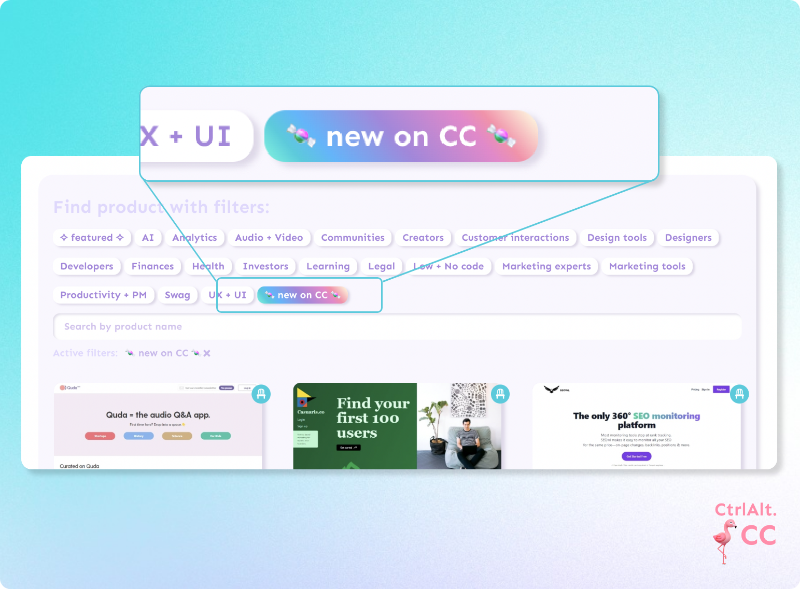 Until next time you can find me on twitter @nerddoingsocial 🐦

Also if you want your product featured in one of the next emails or wanna share some thoughts on early adopters stuff give me a shout 😊

Daniela
_______
Founder & Maker