Hello, Daniela here 👋
I built CtrlAlt.CC to make it easier for you to find helpful tools for startup tasks & now I'm bringing a few cool products to your inbox, every so often.
Had a tiny break to recharge (also caved and ended up building a little project with AI 🫣) but now I'm back with some fresh stuff 🍉
Quick update: I'm working on making the process of picking the "product of the week" more democratic 🗳 Did an analog test of this a while ago and people seem to enjoy sharing their own, so working on a more scalable version now (if you wanna be one of the first people to test it lmk 🤗)
Now let's look at what's going on this week 👀
Product of the week #26
As promised, we'll stay away from AI for a bit (however, funnily enough I actually came across this maker by chatting about AI products.. it's pretty hard to fully escape them!)
On his twitter, Fred @notionpunk talks about all sorts of helpful resources, honing in on no-code tools & creative ways to use Notion. And he's lately launched a Notion product himself ⬇️
Meet Newsletter Wizard 💌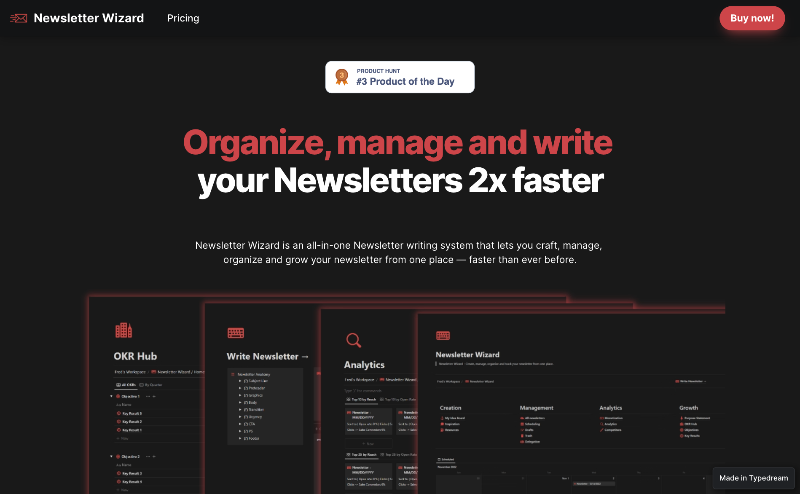 Website link: newsletterwizard.io
Newsletters vary in many aspects, from distribution channels to topics, writing styles & structures. But they all have one thing in common, there are a lot of moving pieces to manage at all times!
When getting started with his newsletter Fred experienced exactly this and decided to spend 100 hrs to create a system to fix it.
Enter Newsletter Wizard. A writing system that contains everything you might think of when it comes to managing your newsletter – from hundreds of templates, topics & copy inspiration to help you get over the writer's block (and even a beginner's guide if you need a bit more help getting started) all the way to a CRM where you can monitor your analytics and keep track of your key metrics. All in one spot. And to make it even better, that spot is the beloved Notion!
It's aimed to help anyone from beginners to advanced newsletter writers and even agencies by allowing you to manage your ideas & grow your newsletter without the chaos, from one single central location 🧘‍♀️
So if you are thinking of starting a newsletter or want a better system for your current one, this is the tool you've been looking for!

And this week's maker story comes from a maker who's also creating a one stop solution, but this time for web forms!
Jeevan's product: fluxforms.xyz
"Despite being one of the oldest things to exist on the internet, it surprised me that there still wasn't any perfect solution for Forms. Even if you managed to collect data using other form services, you had to pay for multiple apps to manage and make sense of the collected data. That inspired us to build Fluxforms, a 1-stop solution for everything around forms.
My co-founder and I have been building top-notch SaaS products for other companies as consultants for a long time. With our combined skills in design & dev, we had everything in us to build a good SaaS product. So, we looked for areas in which there were gaps and shipped the product within two months while also managing client work.
We work closely with our users in understanding their needs, pain-points and develop FluxForms keeping that in mind. We personally respond to every support request so that we are in sync with what our customers want. Seamless user experience and value for money are one of our top-most priorities. We want to add value and not just be a nice-to-have product.
We have now realized that building the product was probably one of the easiest things to do. The biggest challenge is to get people to know about it and sell it to them. We have picked up many new skills, made many mistakes, and learned new lessons. All of that is helping us grow every day and building FluxForms the right way"
Check out Jeevan's tools stack ↓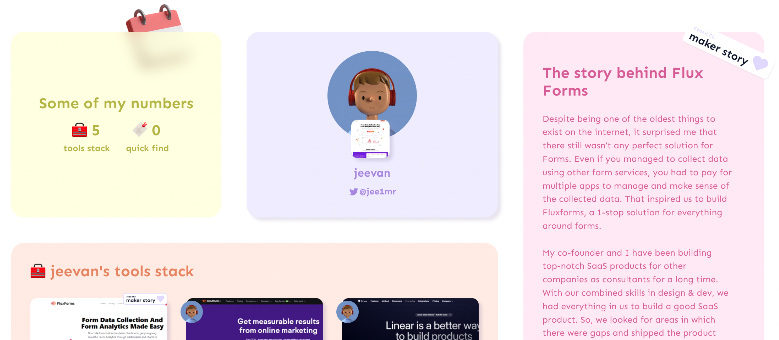 Until next time you can find me on twitter @nerddoingsocial 🐦

And if you know someone who would enjoy this newsletter, it would mean a lot to me if you can forward it to them too 😊

PS don't forget to check out today's random product ✌️

Daniela
_______
Founder & Maker