Hello, Daniela here 👋
I built CtrlAlt.CC to make it easier for you to find helpful tools for startup tasks & now I'm bringing a couple cool products to your inbox, every so often.
Let's have a look at what's going on this week 👀
Product of the week #15
This product is a bit different than the ones featured so far, mostly because it has a relatively large team behind it.
But such a robust product needs a team to match!
Meet Mimo, a tool that will teach you how to code pretty much Duolingo style 🎓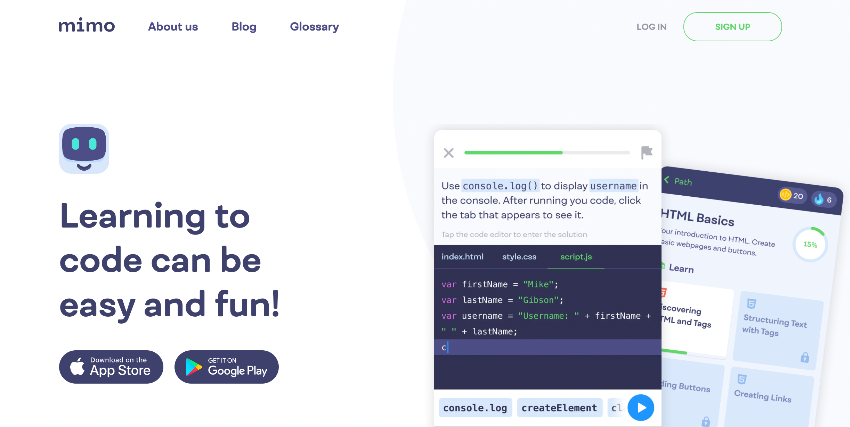 Website link: getmimo.com
My brother was looking for a way to learn Python in his spare time and came across Mimo through a blog post. He's only started using the app recently, but hasn't stopped talking about it yet – so I thought "if I have to listen to all of this, now everyone has to as well" (only slightly kidding 😅)
As opposed to other tools & platforms that he's tried, Mimo uses gamification to make learning interactive & it actually made him replace doom scrolling through insta with exercises on the app 😶 I mean.. that's a massive win for any educational tool out there, against some tough dopamine kick competition!
It's current curriculum covers HTML, CSS, JS & Python and comes with an app for iOS as well as Android + a free trial to get you started.
So if you've been tinkering with the idea of learning any of these languages (or even the idea of doom scrolling less & learning something instead), definitely give Mimo a try!

And this week's maker story comes from Courtney, a ingenious maker whose awesome product has been featured a couple editions ago 👀
Courtney's product: getkoya.com
"I grew up in an innovative household. In fact, my dad started his first company at our kitchen table. So in 2018, when he mentioned wanting to start a family business, we were excited about the opportunity to do something together.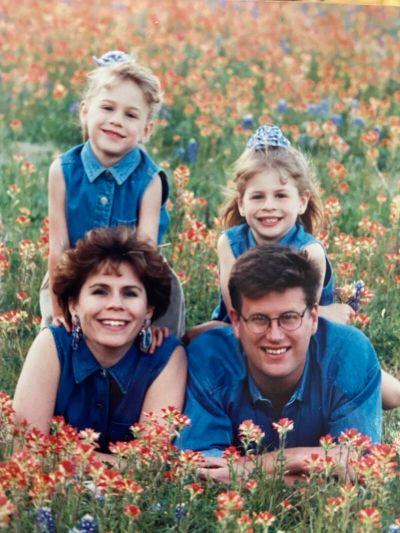 Before starting KOYA (Kindness On YA), my older sister, Caryn, and I were global storytellers, meaning we were gone 60-80% of the year. We missed birthdays, holidays, bad days, and even breakups. We missed a lot of important milestones and were eager to find a solution to this pain point. There wasn't a good way to show up from a distance.
Initially, we created an app that used geolocation to trigger the delivery of both the message and gift. While people enjoyed the idea, we struggled to find product market fit, especially during the pandemic when everyone was suddenly homebound. While our initial product might not have been the right solution to the problem, our value proposition resonated with people. Everyone was missing their family and friends, and everyone was missing important life events during the pandemic. Suddenly, it felt like the whole world was experiencing our pain point. In response, we made it possible for people to schedule KOYAs instead of sending them to locations and we also decided to pivot our business from B2C to B2B. We did this to accommodate businesses transitioning to remote work.
The goal of KOYA is to help others connect in a meaningful way. Whether you are the manager of a remote team, are in sales looking to foster warm leads, or a service provider wanting to thank your referrals, we hope you use KOYA to intentionally show up for your people.
Thanks for checking out our product. If you have any feedback or feature requests, you can find me on Twitter @courtneyruthw or email me at courtney@getkoya.com. I'm a Capricorn, so I reply to every email. 😉"
You can check out Courtney's CtrlAltCC profile and find out what tools she likes using ↓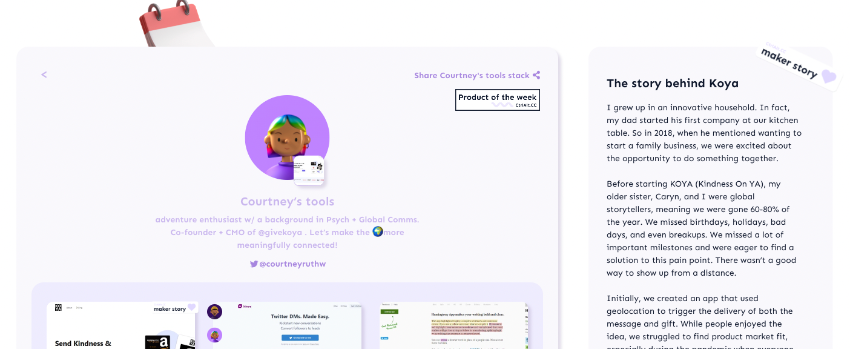 Link: ctrlalt.cc/profile/courtney
.. and you can also make your own profile if you want to show what tools you've been using for your own tasks!
Until next time you can find me on twitter @nerddoingsocial 🐦

And if you know someone who would enjoy this newsletter, it would mean a lot to me if you can forward it to them too 😊

Daniela
_______
Founder & Maker