Hello, Daniela here 👋
I built CtrlAlt.CC to make it easier for you to find helpful tools for startup tasks & now I'm bringing one cool product to your inbox, every so often.
Let's dive in 🏊‍♂️
Product of the week #6
I've been meaning to test this product for quite a while now, but with it being a productivity tool I kept postponing it. Counterintuitive? 😅 Maybe! But I've tried out quite a few productivity tools before I got to a setup that works for me.
However, I've been dealing with a lot of burnout lately, so when I started chatting with @NhiHemingway I thought this was the perfect time to give this product a go.
Meet Llama Life 🦙, a productivity tool that puts YOU before your work!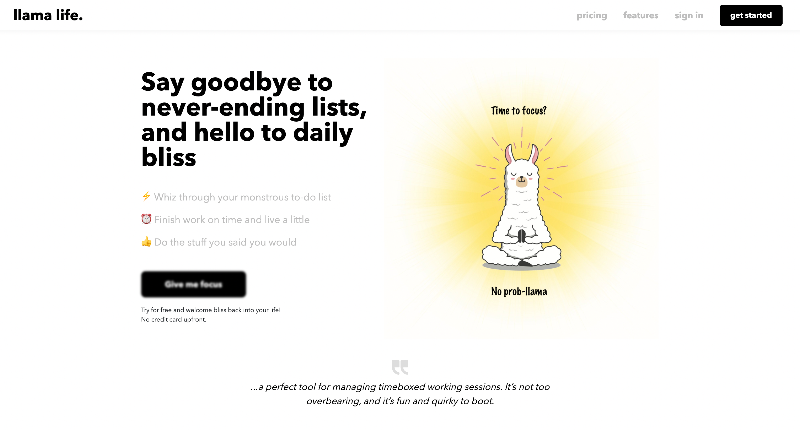 Website link: llamalife.co
It's been made by the ever inspiring @threehourcoffee and unlike other tools out there, it focuses on helping you get your work done effectively AND also makes sure that you have enough energy left afterwards, to do non-work stuff if you want to!
Sorcery I know 🧙‍♂️
Before building Llama Life, Marie taught herself how to code whilst building shhhnoise & fidgetpage – super creative tools with nice little touches like this cool af llama giving you a nudge to check out Llama Life 😍 ⬇️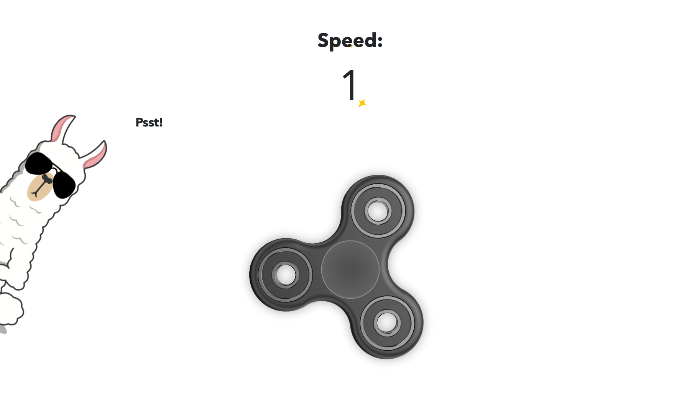 But going a bit off track here.
I have been using time boxing for quite a while now, in an attempt to be as productive as possible whilst juggling multiple projects. Or so I thought.
My boxes of time started containing more and more stuff in them and I started being more & more tired, all the time.
With Llama Life as a clean slate, keeping everything minimal was the key. So I made a "presets" list that basically contains a few 90 mins work blocks, a workout block & a couple breaks. Every day before I start, I am loading the presets list & adjusting the tasks based on what I am planning to get through that day. Then I am letting the timer tell me when to stop & switch to the next task (& it does so with lovely chimes sounds 🧘‍♀️)
Obviously it's hard to estimate exactly how long a task will take & sometimes I have so little left to do that I'd rather finish up before moving on to the next time block. But Marie of course thought about this! and made it super easy to adjust the timer as you go, complete the current task before the timer runs out, delete a task & rearrange the priority order as your day goes on.
All these tasks updates are reflected in the "end time" which will tell you, based on everything that you have in your list for today, what time you'll finish up. Super handy if you have plans afterwards, so you can remove low priority stuff & make sure you are done when you were planning to.
I think my favourite thing about Llama Life is coming across all these little features and see that someone thought about all these experiences through the product. Definitely one of the benefits of building in public & developing based on genuine user feedback, resulting in an app that's a joy to use!
It has a 7 day free trial to give you enough time to decide if it's for you or not (as you might've guessed, it 100% is a tool for me 😊)
More to come!
Marie bootstrapped Llama Life as a sole founder and recently brought Nhi on board to help her. Now they've just raised a pre-seed round so they can get more hands on deck and take it all even further (give them a shout if you want to help them)! Some of the words that I am hearing are multi player mode, streaming, audio, & even potentially video. Watch this space!
Until next time you can find me on twitter @nerddoingsocial 🐦

And if you know someone who would enjoy this newsletter it would mean a lot to me if you can forward it to them too 😊

Daniela
_______
Founder & Maker