Product of the week #20
Being in front of a screen most of the time, is getting harder and harder to avoid, especially with so much content readily available for consumption. And yet we've all probably heard the things about blue light and how a lot of it (like most things tbf) is .. bad.
In a bid to fix part of this problem, there have been a lot of things coming & going in the e-ink space throughout the years, with Kindle somehow (maybe bc amazon, maybe bc they are just very good) being a constant.
Enter KTool, making it easier than ever to read anything from the internet on your Kindle 📖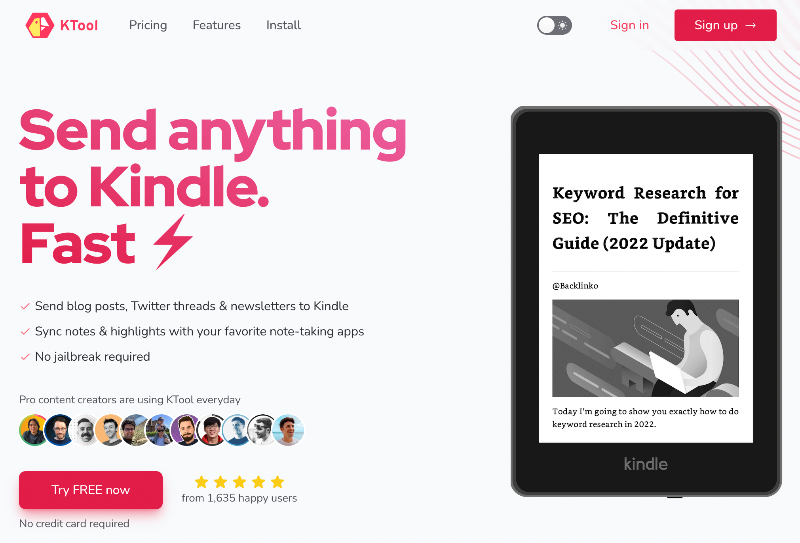 Website link: ktool.io
KTool is being built in public by Daniel, who besides creating the web app for this clever tool, has already made a neat extension that you can add to chrome, firefox & safari as well as an iphone app (with an android one in the making).
What they do is basically let you send any page that you are on, directly to your Kindle, with one click! Not only that but everything, from blog pages to twitter threads & everything in between, gets properly formatted, with no missing images / graphs / tables etc.
And to be fair, the experience using KTool is so good that it actually made me buy my first Kindle! I was tinkering with the idea of getting one for quite a while, but I've always felt a bit weird about how limited it's functionality seemed, as a standalone device.
Now, with this "power-up" the device makes a lot more sense to me. I get to use it almost every night before sleep, either to read a book or something that I came across on the internet earlier on, replacing any urge for doomscrolling and improving my sleep 🛏 💤. Give it a try, you'll not regret it!