Hello, Daniela here 👋
I built CtrlAlt.CC to make it easier for you to find helpful tools for startup tasks & now I'm bringing a couple cool products to your inbox, every so often.
Let's have a look at what's going on this week!
Product of the week #20
Being in front of a screen most of the time, is getting harder and harder to avoid, especially with so much content readily available for consumption. And yet we've all probably heard the things about blue light and how a lot of it (like most things tbf) is .. bad.
In a bid to fix part of this problem, there have been a lot of things coming & going in the e-ink space throughout the years, with Kindle somehow (maybe bc amazon, maybe bc they are just very good) being a constant.
Enter KTool, making it easier than ever to read anything from the internet on your Kindle 📖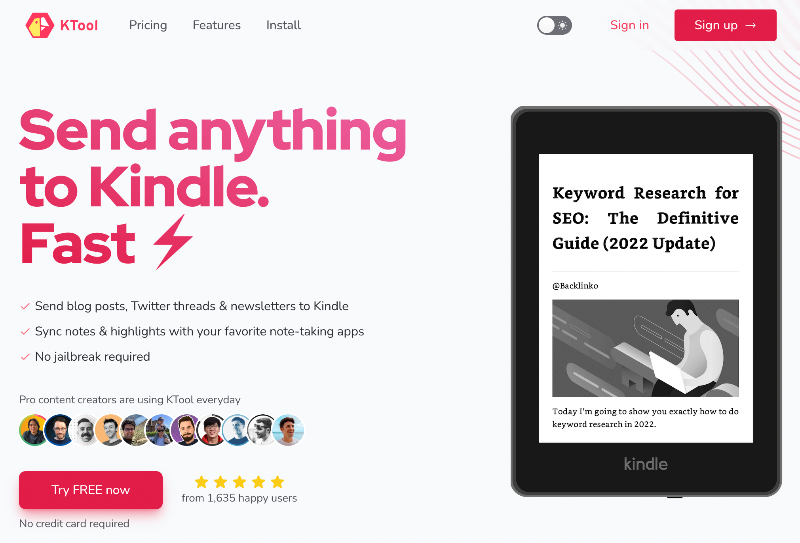 Website link: ktool.io
KTool is being built in public by Daniel, who besides creating the web app for this clever tool, has already made a neat extension that you can add to chrome, firefox & safari as well as an iphone app (with an android one in the making).
What they do is basically let you send any page that you are on, directly to your Kindle, with one click! Not only that but everything, from blog pages to twitter threads & everything in between, gets properly formatted, with no missing images / graphs / tables etc.
And to be fair, the experience using KTool is so good that it actually made me buy my first Kindle! I was tinkering with the idea of getting one for quite a while, but I've always felt a bit weird about how limited it's functionality seemed, as a standalone device.
Now, with this "power-up" the device makes a lot more sense to me. I get to use it almost every night before sleep, either to read a book or something that I came across on the internet earlier on, replacing any urge for doomscrolling and improving my sleep 🛏 💤. Give it a try, you'll not regret it!

And this week's maker story comes from Dagobert, a maker who took twitter by storm with his extremely relatable startup memes
Dagobert's product: logology.co
(+ bonus, his startups memes collection: memelogy.co)
"Lucie has been designing logos professionally for 15+ years. As a consultant, she worked specifically with startups and helped them start their brand the right way. But while doing that, she saw dozens of founders who couldn't afford it. A custom branding project usually starts at $3k while they only had a couple of hundred dollars. But she still wanted to help them! So that's when we came up with the idea for logology. Since I'm a developer, I immediately thought of automation ideas to make her design process more effective. And together, we eventually came up with the idea of a fully automated brand design service, based on the work she used to do as a freelance. To keep the same level of quality but make it more affordable.
We sent a handwritten postcard to our first customer to thank them because we felt so happy to have made our first sale :D. But the funny thing is that we still felt very happy with the second customer, so we did it again… And now we're at more than 500 customers, so we sent more than 500 postcards 😮. In terms of personal touches, I also send an email to every customer to ask them about their startup and what they're trying to build. We do this because we come from the service world, so we're used to taking the cafe of every customer as if our lives depend on it.
I think deep down the hardest struggle we had and still have, is to manage our emotions and stay hopeful over time. Spending years on the same project and not seeing much growth can be very demoralizing. I think it's the number one challenge we face as founders. Even now, after 4 years and seeing the business running more smoothly, every time we have a couple of days without sales, doubt creeps in again. We get used to it somehow but it's still stressful. I have no magic pill for it 🤷‍♂️
However, I want people to know that if they feel like it's hopeless… well it's normal. 99% of us feel this way. The key is to try to find objective reasons to keep going, not become overly pessimistic, and just keep going. Eventually, it will get better."
Check out Dagobert's tools stack ↓
Until next time you can find me on twitter @nerddoingsocial 🐦

And if you know someone who would enjoy this newsletter, it would mean a lot to me if you can forward it to them too 😊

PS don't forget to check out today's random product!
(you don't need an account or anything anymore 👀)

Daniela
_______
Founder & Maker