Hello, Daniela here 👋
I built CtrlAlt.CC to make it easier for you to find helpful tools for startup tasks & now I'm bringing one cool product to your inbox, every so often.
Had to take a couple weeks away from writing, but I'm now back in full force with this week's product 💪
Product of the week #13
Not that long ago, one of my tweets went slightly viral (I mean at least viral for my tweet standards 😅) and it lead to meeting a lot of cool people working on cool stuff!
One of these people is the amazing Courtney @courtneyruthw, who cofounded a startup with her family (not gonna make this whole number about family approval, but how cool is that!?) And if this isn't enough, their product is super lovely too!
Meet KOYA – a clever way to bring thank you's to the digital era 💝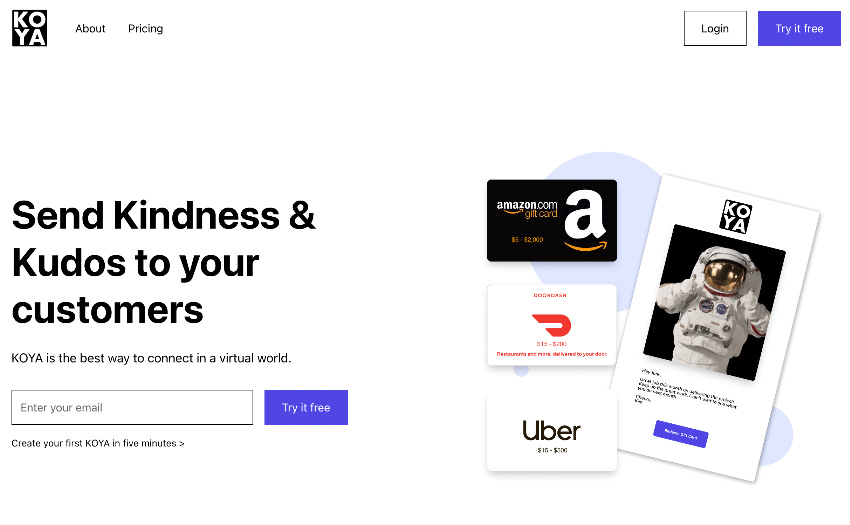 Website link: getkoya.com
Ever wanted to thank someone who's been super supportive? Or a customer who gave you really useful feedback? Or even someone you've just met but immediately made an impact on you? Well KOYA helps you do just that (and more) in a super straightforward way!
It's a web app that lets you easily send a personalised photo, gif or video & message to anyone you want, and thank them in your own way. You can have this delivered by email or sms and if you are in the US, you can also add a personalised gift card to the mix!
Wanna check one out? Have a look at this super lovely KOYA that I got from Courtney. I know it will not feel exactly like being on the receiving end of one, but should hopefully help paint an idea of this experience!
As @DmytroKrasun put it, "it's a new level of customer service" and I'd highly recommend trying it out if you are thinking of upping your kudos game! It comes with a free tier as well as 2 pricing plans to suit any needs.
PS if you want to learn more about the story behind KOYA, it will be featured in here soon too 🤫 so keep an eye out!

Moving on from lovely things to harder things – this week's maker story comes from Michal, an indie maker who kept on adapting!
Michal's product: syften.com
"When I first started I had no idea what I was doing. I quit my job, read a book about entrepreneurship, and went ahead and launched my first SaaS. I quickly learned my first lesson – don't sell to people famous for not wanting to spend money – restaurants.
My second attempt was an improvement – I sold to programmers. I had a hard time finding enough of them though so I quickly tied together a few scripts and made a tool that helped me find them. I published those scripts on Indie Hackers, and what do you know – they proved to be much more popular than the tool they were meant to grow! I switched full time to that, launched a product called Syften, and now I'm at $7000 MRR. (disclosure: this bright story does not include the emotional roller coaster and me quitting temporarily in the middle)
Transitioning from programmer to solopreneur required becoming a product owner along the way. At first I launched a product that only I knew how to use. And to solve that I wrote documentation that only I knew how to read. I spent my career with some of the smartest and most technically minded people in the world who spent 10 hours a day coding. I discovered that I didn't know how to communicate with people who were not that.
So I did video calls. Lots and lots of video calls, where I asked someone to sign up to my little tool and tell me when they have to think. (The key to a good product is not to make the user think. I can recommend the book: "Don't Make Me Think"). Every time the user encountered friction, I'd write it down and fix it before the next interview (I explained the whole process in detail here ).That really helped, I boosted my activation rates from 42% to 74%!
Today Syften is a whole different product, based on tons of feedback. Most users can find their way around, but some prefer to be shown. I'm happy to do video calls with my users and help with the initial onboarding – I do around 3-5 of those per week. Four years ago I would have hated it. I'd fear video calls, and avoid everything that's not coding. But now I treat it as a chance to meet cool new people (I sell to other founders) and I couldn't be happier!
Picking the right audience was the key :)"
You can check out Michal's CtrlAltCC profile and find out what tools he likes using ↓


Link: ctrlalt.cc/profile/michal
.. and you can also make your own profile if you want to show what tools you've been using for your own tasks!
Until next time you can find me on twitter @nerddoingsocial 🐦

And if you know someone who would enjoy this newsletter, it would mean a lot to me if you can forward it to them too 😊

Daniela
_______
Founder & Maker