Hello, Daniela here 👋
I built CtrlAlt.CC to make it easier for you to find helpful tools for startup tasks & now I'm bringing one cool product to your inbox, every so often.
This is the 10th email like this, that I wrote 👀 🎉
If you've read all of them, thank you so much for sticking around 🙏 and if you've just joined in, I am super happy to have you here & share these things with you 😊
Product of the week #10
Contrary to what you might think bc of the little celebration above, I'm usually not a fan of vanity metrics and chasing them.
Twitter wise you could say that's also because I don't have that many of these metrics skyrocketing (like shares / likes / followers / etc) 😅 and that's probably partly true!
But lately CtrlAltCC got quite a few new daily visitors, newsletter signups & the first few paid directory features 💜 from twitter, so I thought this was a good time to get on the vanity metrics train for a while and see if I can make twitter work as part of CtrlAltCC's marketing 🤔 (updates on this to follow as I go!)
Around the same time I've also connected with Luca @ikoichi on twitter, who talked to me about a super useful twitter tool that he's built.
That tool is Hivoe! 🐦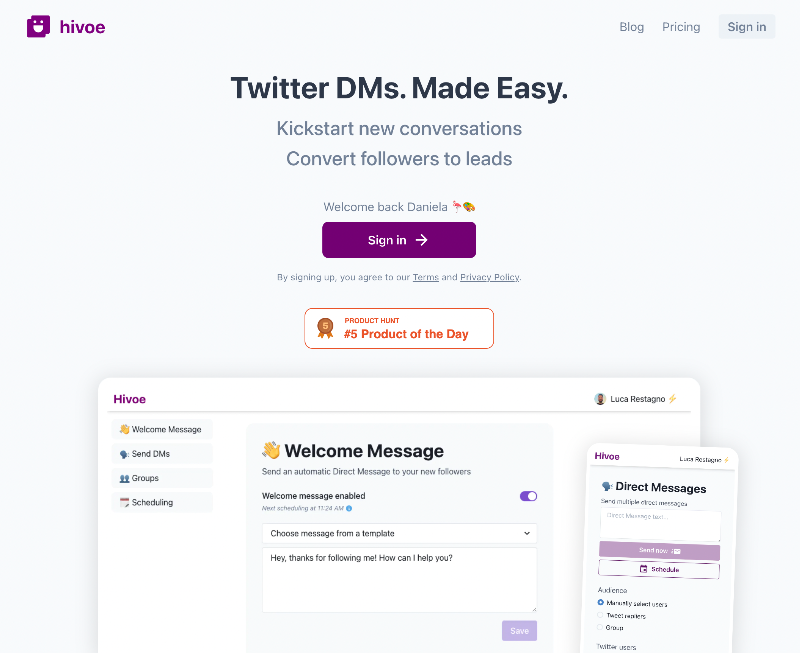 Website link: hivoe.com
Hivoe helps you easily set up twitter DM automations for welcome messages, when someone follows you; schedule DMs; send group DMs and even create giveaway flows!
Hivoe was already featured on CtrlAltCC at the time, as it looked like a really useful tool since the first time I came across it. But in all honesty, I never thought it would be a tool for me.
Apparently I was very wrong 😅
Though I believe in automating as much as possible, when it comes to human interactions, I always thought automating them felt a bit lazy! Especially when they are made to look like they are not in fact automated (not a fan)
Luca @ikoichi was super creative on this front though! In the auto-DM that I got from him when I clicked follow, he acknowledged that this was just an auto-DM meant as an icebreaker and mentioned that he is super happy to chat if I wanted to, but also cool if I didn't want to chat.
🤯 this was a game changer.
It's so honest & upfront that you cannot not like it! So I set up my own (heavily inspired by his) in about 2 minutes through Hivoe, of course. Super straightforward setup! And this is how mine looks ⬇️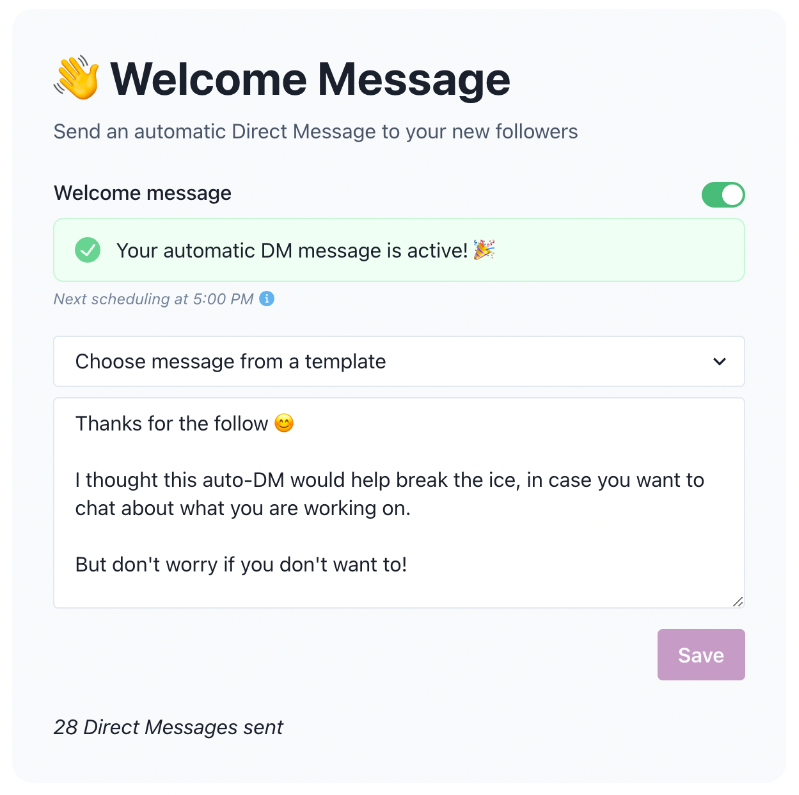 And guess what. People are actually loving it!! Out of the 28 auto-DMs sent so far, 10 of them resulted in a conversation. Insane ratio imo!
People feel like they don't have to engage if they don't want to, but it always opens a door in case they do. So clever!
My stance on this did a full 360, from "I could never use this" to "where has this product been all along!" 😅 and I am really glad it did!
You can test it out for free and then upgrade to a paid plan afterwards that gives you unlimited amounts of automated messages to use and you also get to support Luca @ikoichi whilst at it 😊

On a productivity note, this week's maker story comes form Marie & is about building Llama Life! (featured previously as product of the week #6)
"To say I love productivity tools is an understatement! I love understanding the systems behind tools, and the habits and psychology people use to get things done.
I built Llama Life because I was diagnosed with ADHD about 10 years ago and ever since then have been trying to find solutions to help increase my focus and get work done.
But I just couldn't find a tool that worked the way I wanted it to. I found plenty of tools that helped me MAKE lists, but I wanted something that would actually help me work THROUGH my list.
I discovered that setting a fixed amount of time for each task gave me a strange sense of calm. It also gave me the mental space to focus on ONE thing at a time. And this is what Llama Life is designed to do!
With Llama Life, my end goal was to create something that would provide you with a feeling of calmness and control (and also fun!). I hope I've achieved this. Thanks for checking it out, and if you have any feedback or feature requests you can find me on Twitter @threehourcoffee or drop me an email at hello@llamalife.co.
PS – As for why it's called Llama Life…well, that comes from a trip I did to Peru in 2018. I was lucky enough to visit a small village, and chat with some of the locals there. They had no electricity or running water, but damn they had a lot of llamas! At the time, one thing that stuck me was how peaceful, calm and content they all were, and when it came to naming this app, I wanted to replicate that feeling. And so…"Llama Life" was born."
You can now find her story as well as some of the tools Marie uses, on her CtrlAltCC maker profile ↓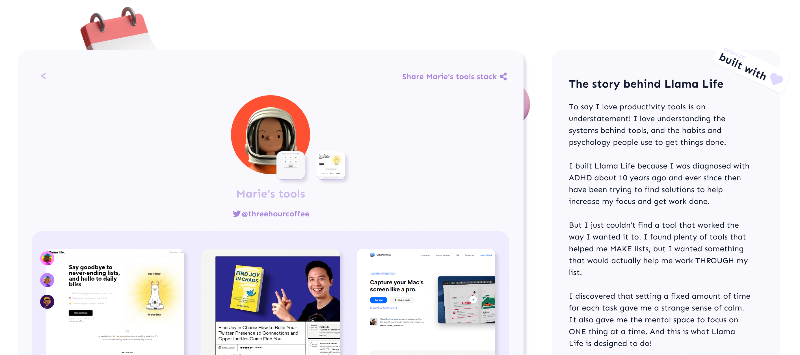 Link: ctrlalt.cc/profile/marie
Until next time you can find me on twitter @nerddoingsocial 🐦

And if you know someone who would enjoy this newsletter, it would mean a lot to me if you can forward it to them too 😊

PS: if you want your product featured in one of the next emails give me a shout, I'd love to see what you're working on!

Daniela
_______
Founder & Maker