Hello, Daniela here 👋
I built CtrlAlt.CC to make it easier for you to find helpful tools for startup tasks & now I'm bringing one cool product to your inbox, every so often.
Besides the usual, this email will also contain the 1st featured maker story 🤩 – but let's have a look at this week's product first!
Product of the week #9
I'll start by saying that this is not the way I usually come across products for the directory 😁
This time a fellow maker found ctrlalt.cc on twitter, where one of his friends mentioned it (how amazing is that 💜) . He then crafted this super smart email where he introduced himself and quickly showed me how the product he's made would work on ctrlalt.cc
Wow! I mean if all cold emails would put in even half the thought Goutham @gouthamjay8 put into his, I bet their conversion rates would be much higher!
Anyway, considering I had this one task on my to-do list for quite a while now, I decided to give this product a go & see if I can finally tick this task off.
Meet Famewall 💬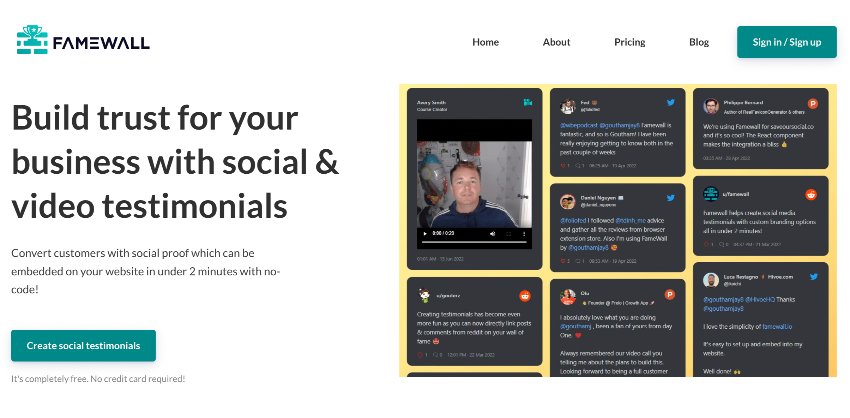 Website link: famewall.io
Famewall makes it super easy to embed testimonials into your site with only one script. That's it – no other coding needed!
It has quite a few options that you can use such as written or video testimonials, reddit, twitter, app stores ones and it also allows you to collect new testimonials super easy.
It looked perfect for my task. I already had a few tweets where people mentioned ctrlalt.cc that I wanted to include, so I signed up, added the tweets URL's to my wall, dragged the cards around until I got a nice masonry layout and that was that. I dropped the generated script into my landing page and here you have it ↓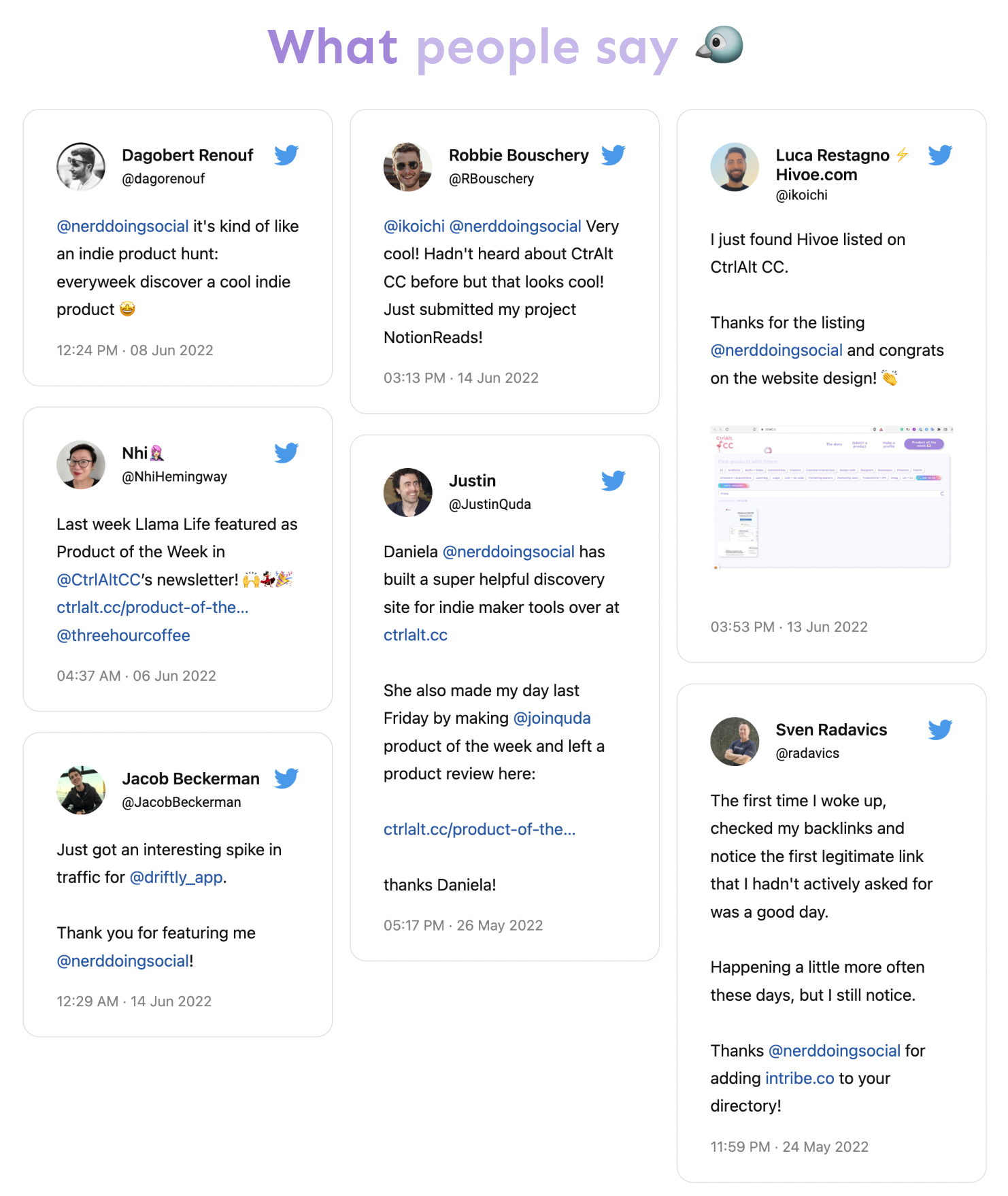 Pretty, quick and more straightforward than any other way of doing this manually I was considering!
It has a free plan to get you started and 3 pricing tiers to help you find one that suits you best .. and let's be honest, it's always nice to use a tool built by someone who looks after their users!
On that note – Goutham is actually the 1st featured maker story 🎊, so have a look below at his story behind building Famewall ↓

Goutham's story about building Famewall
"I began building a lot of businesses 1.5 years ago but ended up facing failures in a lot of them (Full story described here) At that time I had a cofounder, hence I thought we could focus on building distribution first before monetizing users, but the experiment ultimately failed as it was hard to build a community based business while fully bootstrapped.
After all these ventures, I knew I wanted to build my own business as I loved interacting with customers & seeing them use something which I made of nothing. The only missing piece was to find the intersection of, what would people pay for & what I was good at. SaaS products were extremely welcoming on that front since I could create value for customers while also building a living out of it.
So I went into brainstorming sessions finding what be an aspect in business which would remain the same for 10 years. The activities involved in user onboarding came into my radar. A business will have to onboard customers delightfully to let them have a pleasant experience & create a good impression, no matter how many years pass by.
And there's no better way to delight customers than by showing social proof of experiences shared by other customers. Enter Famewall – A tool to collect & embed social media, video testimonials on customizable walls which can be embedded on landing pages in under 1 minute with no-code!
I did try out a lot of testimonial tools but found that they were quite slow & had limited customization options, brand appeal. I wanted to innovate entirely on that front & have been actively working on it, ever since 🙂
The ultimate vision for Famewall is to make user onboarding seamless with testimonials while also removing the friction for businesses in having to collect & manage testimonials."
You can now find his story as well as some of the tools Goutham uses to help him with his tasks, on his CC maker profile ↓
Until next time you can find me on twitter @nerddoingsocial 🐦

And if you know someone who would enjoy this newsletter, it would mean a lot to me if you can forward it to them too 😊

PS: if you want your product featured in one of the next emails give me a shout, I'd love to see what you're working on!

Daniela
_______
Founder & Maker