Hello, Daniela here 👋
I built CtrlAlt.CC to make it easier for you to find helpful tools for startup tasks & now I'm bringing a couple cool products to your inbox, every so often.
Let's dive right in 🏊‍♀️
Product of the week #19
A few issues ago I talked about how important it is to not forget your own health & wellbeing when building your startup (it's waaay too easy to push it down the priority list though)
But even getting up and stretching for a few minutes will go a long way!
Meet DownDog, a personal trainer in your pocket 🧘‍♀️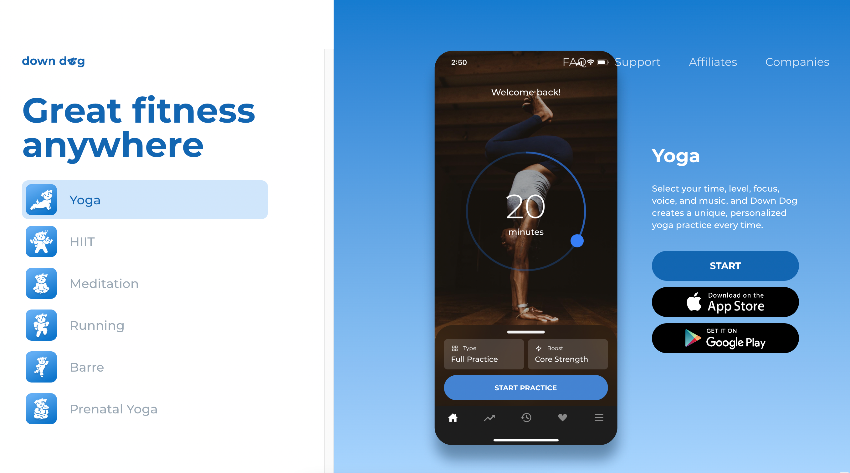 Website link: downdogapp.com
I use Down Dog for yoga, but you can also use it for HIIT, Running or Barre if you prefer that type of workout. All you need is your phone, then the app will do its magic and tailor the workout to you & your current situation 🪄
Only have 4 mins until your next task? Roll the dial down to 4 and you are good to go! Never done yoga before (ahem me before this app)? Not an issue, set your level to beginner and you'll get all the guidance you'll need. The instructions are just too loud? Drag the slider away from instructions and towards background sounds until the levels are just perfect 🤌
It's actually amazing how they've made this level of tailoring feel very straightforward & kept the UI super clean! And the tailoring goes even further – you can pick your pace, the instructor's voice, background sounds and instructions explanation level of detail.
You can also track your workouts in a calendar view and with weekly goals + access workout specifics, in case you want to revisit one (as otherwise you'll get a brand new workout every time ✨)
They have affordable monthly & yearly plans but (and this is the first time I've seen this) if you really want the app but cannot afford it, they have a little message box in which you can tell them ab your situation & they will try to help! What's not to love? 🥹
btw don't forget to check out today's product↓ ✅
(you don't even need an account to check it out anymore 👀)


And this week's maker story comes from Sneha, a maker who's working on connecting you with actual experts, when you need it most!
Sneha's product: geeksandexperts.com
"There is an overload of information from videos, blogs, long courses, short courses, etc. But, what if you needed to ask someone just a quick question that shouldn't take more than 15-20 minutes? What do you do? Whom do you ask? You may shoot some "pick your brain" DMs that may or may not get a response or you can ask your mom's aunt's friend's son for advice over a "coffee" and you might not get relevant advice, and instead, you might be left feeling obligated! At G&E, we want to take the chance out of these chance encounters. Access to social capital can be a real game changer and is a privilege only a few have!
That's why I began working on G&E, to connect users to subject matter experts for need-based advice. The goal is to make users save time and money by connecting directly with an expert from their field – making the connections contextual as well as convenient. The experts can decide if they want to give a free consultation or charge a fee and we take a small platform commission to keep the business sustainable. Today, we are in the information and knowledge economy and we want to help infopreneurs to distribute their expertise directly to the users who need it the most.
As a first-time founder, it might be rare to come across someone who has it all figured out and is moving at a fast pace, failing quickly and moving on to the next item — all while being scrappy, hustling, trying multiple avenues to research and launch their audience and product respectively. I fell into the category of someone who was treading very carefully and wanted to bring the best world-in-class product out there. But, instead of leading with the product, I am now leading with the users and it has been thrilling, to say the least!
P.S.: One of the most exciting audiences we are onboarding is experienced indie creators who have shipped, scaled, or sold their side hustles. There's so much to learn from those who have been there and done that – the possibilities are endless."
Check out Sneha's tools stack ↓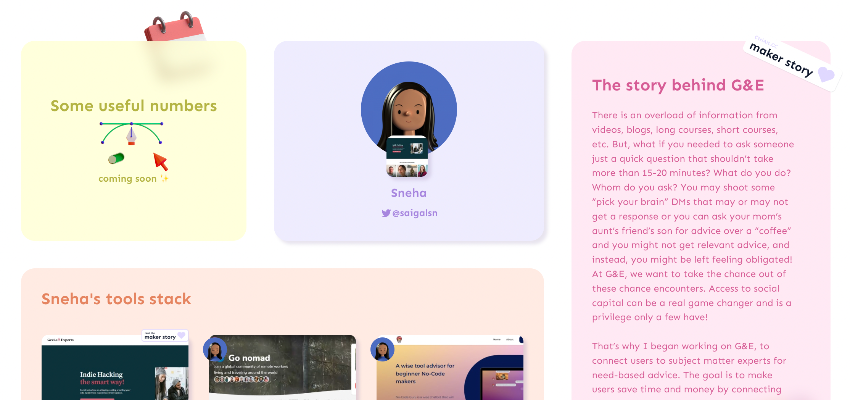 Link: ctrlalt.cc/profile/sneha
Until next time you can find me on twitter @nerddoingsocial 🐦

And if you know someone who would enjoy this newsletter, it would mean a lot to me if you can forward it to them too 😊

Daniela
_______
Founder & Maker