Hello, Daniela here 👋
I built CtrlAlt.CC to make it easier for you to find helpful tools for startup tasks & now I'm bringing a few cool products to your inbox, every so often.
Let's dive in 🏊‍♀️
Product of the week #25
So I know we've looked at AI tools for 2 weeks in a row now 😬 which is why we'll do just one more and then we're taking a break and moving on to a different category, promise!
The AI space is just fascinating rn and I think testing all of these tools helps me stay away from building my own AI tool (but never say never 👀)
Anywaays..😅
Meet cleanup.pictures ✏️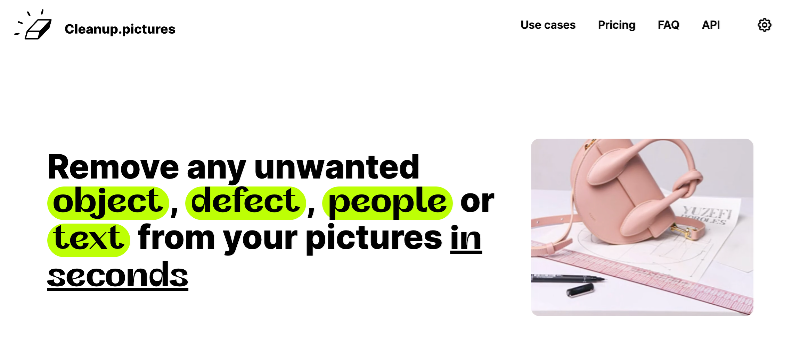 Website link: cleanup.pictures
Cleanup.pictures is a very easy to use tool that makes getting rid of unwanted stuff in a photo, way to easy!
How? Well this is the whole process: upload your photo -> use the brush to mark the thing /things that needs removed -> blink -> your clean photo is now ready 🤯
You also have a cool "on/off" switch which lets you see the before & after and that's pretty much it!
Making things simple is very hard. So long may tools that do one thing really really well, live and may photoshop & the likes rest in peace 🪦 as AI is slowly taking over all of these tasks and making the processes quicker & easier than ever.
And from where I stand, they are still just that. Tools. Quicker, cheaper, better tools but not close to putting any person out of a job just yet 😉

This week's maker story comes from a no-code maker & writer focusing on other no-code acquisitions 👀
Also, she is helping me test a different type of AMA that will hopefully create less friction & encourage more people to get answers to their questions 🤩
(TLDR; visit this link for the AMA: indiehackers.com/post/ama-with-katt-risen-the-brilliant-mind-behind-no-code-exits-f1e7dfcdd2)
Here's the link to Katt's No-Code Exits newsletter: nocode-exits.com
And here's the story behind it:
"Once upon a time…on a sunny summer day in Leuven, Belgium…. I noticed that every tweet about my recent acquisition (of a small side project made with No-Code) went bonkers.
So I followed the pull. In 30 minutes I created a Substack, went for the first best name that popped in my head and chose an icon from a stock website as logo. I announced it on Twitter and 12 hours later I had around 250 subscribers. I quickly published my own story and left on holiday for 2 weeks. When I returned, I had 610 subscribers. Newsletter Market Fit: Check. Now (3 months later) I'm at 2000+ subscribers and have around 800 USD of ad revenue per month.
For my readers, I always feel a bit guilty when I display ads. So I really go the extra mile and try to think outside the box to have ads that add value for my readers (It has been a success because in an audience survey there was someone who only reads the newsletter for the ads ;-)). And this also results in good results for the advertiser and some long-term partnerships with some. So it's really a win-win.
If I look back now on my journey I would never have thought one thing would lead to another:
Made small No-Code Side Project
No-Code Side Project got Acquired
Stared No-Code Exits because of all the questions I received about it
It also got an acquisition offer for No-Code Exits (but I said no)
And now I'm making an mvp to validate an idea also in the No-Code / acquisition space.
So conclusion: don't wait for this huge idea. Start launching some side projects, learn by doing and listen to your audience/users/readers/… Who knows what I will be doing in 12 months 🙂"
Check out Katt's tools stack ↓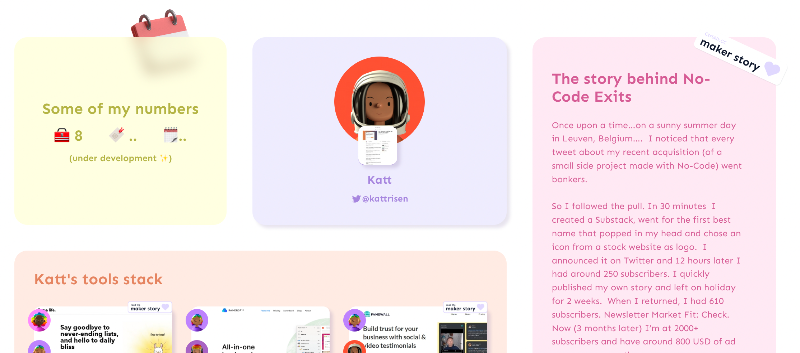 Link: ctrlalt.cc/profile/katt
And just in case you've missed it, you can go ask Katt any questions you might have, here.
Until next time you can find me on twitter @nerddoingsocial 🐦

And if you know someone who would enjoy this newsletter, it would mean a lot to me if you can forward it to them too 😊

PS don't forget to check out today's random product ✌️

Daniela
_______
Founder & Maker