Hello, Daniela here 👋
I built CtrlAlt.CC to make it easier for you to find helpful tools for startup tasks & now I'm bringing one cool product to your inbox, every so often.
As mentioned last time, "product of the week" is now democratized 👀. Well sorta. Basically if you've been using a cool product that you think others will find helpful too – send this my way & let's get it featured next 🙂
Product of the week #12
I've actually been planning on featuring this product for a while now, but end up pushing it down the list every time.
Basically I haven't been able to find much about the maker of this product or anything from behind the scenes, which always raises a few questions for me.
HOWEVER, this reasoning < the fact that it's such a useful tool. So I feel like it's finally time for it to be shared with the world, in spite of this little hiccup!
Meet Choosify 🗯️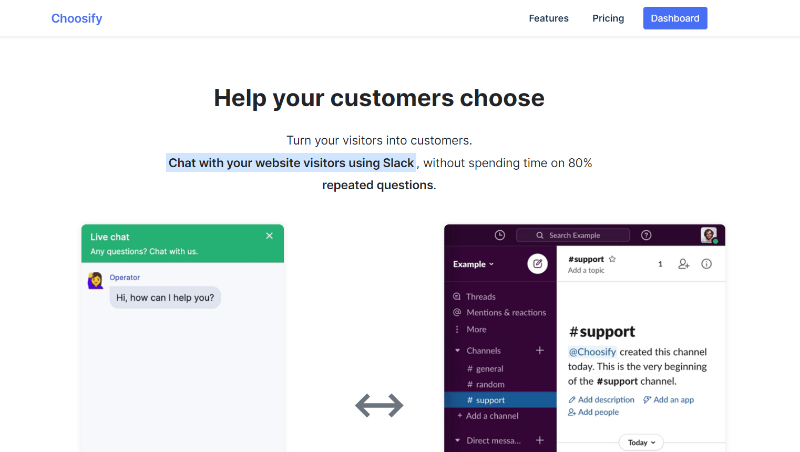 Website link: choosify.chat
Choosify is a website chat widget that lets you talk to your site visitors directly from slack. It's made by Jos van der Maas, which is pretty much the only thing I could find out about the maker 👤
That being said, I've been using Choosify in multiple projects for the past couple years and I only have great things to say about it!
It's super easy to set up – all you need to do is customize the widget, add a small code snippet to your site, connect it to a slack channel and that's it, you are all set.
The customizations allow you to pick a suitable icon, a mascot & colour theme as well as set up "if this then that" chat flows.
Pretty much everything you need from a lightweight chat widget that integrates into an existing slack workflow!
Would 100% recommend Choosify if you are looking at complex widgets, such as Intercom and finding they are way to pricey and have waaay to many features for your usecase.

Now, at the other end of the anonymous spectrum, this week's maker story comes from Max, an indie maker with a bunch of interesting ideas!
Max's product: birdy.so
"Hi, I'm Max (@maximehugodupre) and I'm the indie maker behind Birdy.so 😇. Birdy has the ambitious goal of getting you more followers by enabling you to optimize your Twitter profile via A/B testing. But more on this later.
First, here's my little backstory…
I was never a fan of social media until I came across the fantastic indie maker community on Twitter. It made me realise, now that I finally found a place to share all my software ideas and a seemingly endless pool of like-minded people, I should start building in public! I've been in love with Twitter ever since (it's been nothing short of life-changing 🤩)
After giving it a shot with some productivity apps (kisstodo 💋+ microbreakboss ☠️) and having some small successes, I realized I needed to build something more niche.
So I started experimenting with the Twitter API. I tried out a couple ideas, like a straightforward tool that lets you find out your top 10 most used Twitter emojis 🙌 and a more elaborate Twitter bot which gained me quite a bit of engagement (see what happened here), but had everyone too scared to use on their own account 😂.
They are now both part of the "other tools" on Birdy.so, which brings me to my current project! A tool for Twitter profile A/B testing. I thought I was a genius for having this idea 🤓, until I found out at least 3 people had the same idea 😅. With me being the only one who's actually gone ahead and implemented it, which makes me either a fool or a genius. I guess only time will tell!
Birdy.so works like this: You enter two different profile versions (A and B), with different combinations of Bio, Location and Website. Click "START". Birdy will then automatically update your profile at regular intervals by alternating between versions A and B, tracking which converts to more followers and website clicks. Iterate as many times as you want, until find out your ideal profile version!
So far, after 1.5 weeks of being out into the world, I have 2 paid users and 2 free trial users.
I'm excited to see what the future holds for Birdy as I plan to eventually go far beyond just Twitter profile A/B testing 🚀"
You can check out Max's CtrlAltCC profile and find out what tools he likes using ↓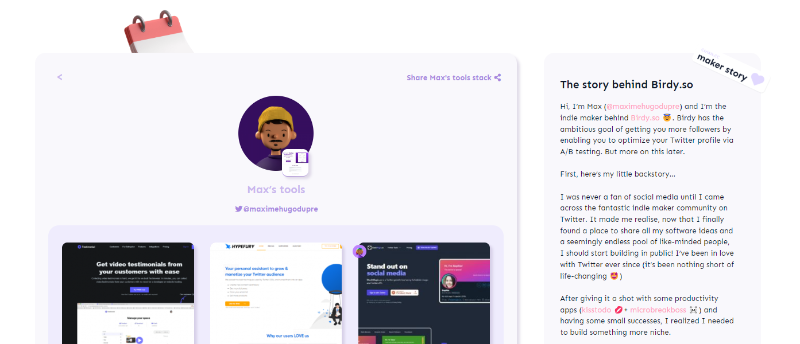 Link: ctrlalt.cc/profile/maxime
.. and you can also make your own profile if you want to show what tools you've been using for your own tasks!
Until next time you can find me on twitter @nerddoingsocial 🐦

And if you know someone who would enjoy this newsletter, it would mean a lot to me if you can forward it to them too 😊

Daniela
_______
Founder & Maker