Product of the week #17
This week's product lives in a market full of options. And sometimes that just creates a lot of noise and makes picking the right solution even harder.
So when most alternatives have similar offerings, how do you stand out? Well, brand positioning & what you stand for is definitely one way to do it!
Meet Cabin, a web analytics platform that does stuff right 🌳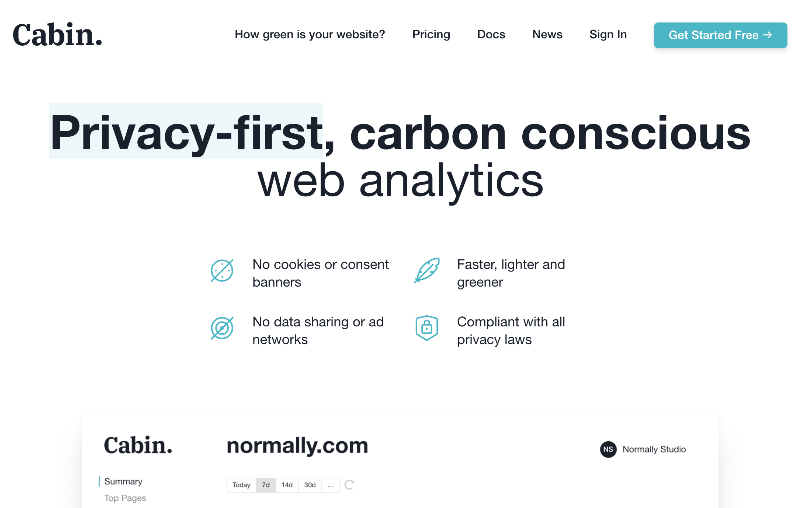 Website link: withcabin.com
Cabin is a cool minimalistic web analytics platform, created by @normallystudio.
It has a slick dashboard with clean graphs where you can see anything from top pages to bounce rate & countries where your visitors are from. It even has an option to create an "open analytics page" that you can share when building in public & a lot more stuff like seeing the carbon footprint of your pages. All whilst putting your site visitors' privacy first!
But that's actually not why I went with them for my analytics. I mean sure having a slick dashboard, being privacy first & carbon conscious really helped. But what actually made me become their customer was the fact that their pricing is not based on page views. I know this might sound like a slightly random reason, but hear me out.
I respect every businesses' pricing models, as they take a lot of work. But when you are trying to stand out from the crowd, not doing what everyone else is doing helps!
So for them, flipping the narrative of "the more site visits you have, the more you have to pay us" (which is pretty much a positive achievement turned into a negative) is really smart. I think it low-key shows that they put their users needs first and that all their other values are not just all talk (as that's sometimes the case)
In a nutshell – if you are in the market for a new analytics platform.. definitely give Cabin a go! These guys have got your back.