Hello, Daniela here 👋
I built CtrlAlt.CC to make it easier for you to find helpful tools for startup tasks & now I'm bringing a couple cool products to your inbox, every so often.
Before we have a look at what's new this week, some exciting updates are coming to the site 👀 Little bits of colour are been popping up everywhere 🎨 and if you have a profile, you can already check out one of the first updates – this fresh (& much larger) selection of avatars 🤩 Login here: ctrlalt.cc/login and find one that suits you best ✨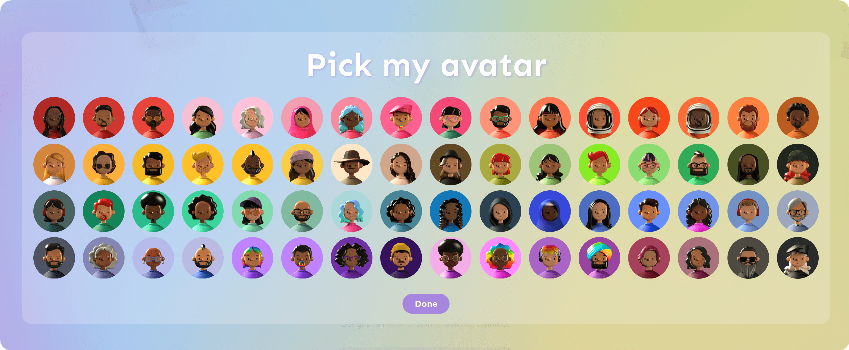 If you don't have a profile yet & want to see what all the fuss is about, you can get one in a few seconds by adding your email here: ctrlalt.cc/join You'll not even need to pick a password until you feel ready to do so, but you'll be able to bookmark tools, connect with makers & much more!
Now the reason that we are all here ⬇️
Product of the week #17
This week's product lives in a market full of options. And sometimes that just creates a lot of noise and makes picking the right solution even harder.
So when most alternatives have similar offerings, how do you stand out? Well, brand positioning & what you stand for is definitely one way to do it!
Meet Cabin, a web analytics platform that does stuff right 🌳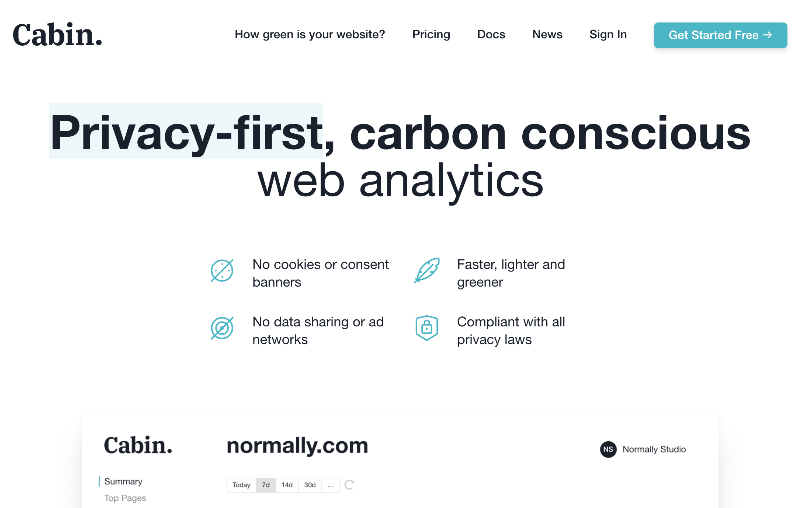 Website link: withcabin.com
Cabin is a cool minimalistic web analytics platform, created by @normallystudio.
It has a slick dashboard with clean graphs where you can see anything from top pages to bounce rate & countries where your visitors are from. It even has an option to create an "open analytics page" that you can share when building in public & a lot more stuff like seeing the carbon footprint of your pages. All whilst putting your site visitors' privacy first!
But that's actually not why I went with them for my analytics. I mean sure having a slick dashboard, being privacy first & carbon conscious really helped. But what actually made me become their customer was the fact that their pricing is not based on page views. I know this might sound like a slightly random reason, but hear me out.
I respect every businesses' pricing models, as they take a lot of work. But when you are trying to stand out from the crowd, not doing what everyone else is doing helps!
So for them, flipping the narrative of "the more site visits you have, the more you have to pay us" (which is pretty much a positive achievement turned into a negative) is really smart. I think it low-key shows that they put their users needs first and that all their other values are not just all talk (as that's sometimes the case)
In a nutshell – if you are in the market for a new analytics platform.. definitely give Cabin a go! These guys have got your back.

And this week's maker story comes from Francesco & Amer, who are trying to make twitter better for everyone!
Francesco & Amer's product: engagementbuilder.com
"Hi! 👋 We're Franceso and Amer. The team behind Engagement Builder.
Engagement Builder is a tool that aims to save you time and effort while helping you grow on Twitter. It is the result of our struggle on Twitter while maintaining and growing our accounts.
We know many tools that are built for Twitter. Some of those tools have engagement functionality. But we're the first tool that is 100% focused on engagement and solving problems around engagement. The biggest struggle for us was our following count. We read all of those success stories, and most of them included some big shots behind. But instead of giving up, we decided to get to work and do everything in our power to succeed.
Before we launched it we decided that if we didn't have $100MRR by two months we will give up. We crushed that goal in 20 days. 🥳"
You can check out Francesco's CtrlAltCC profile and find out what tools he likes using ↓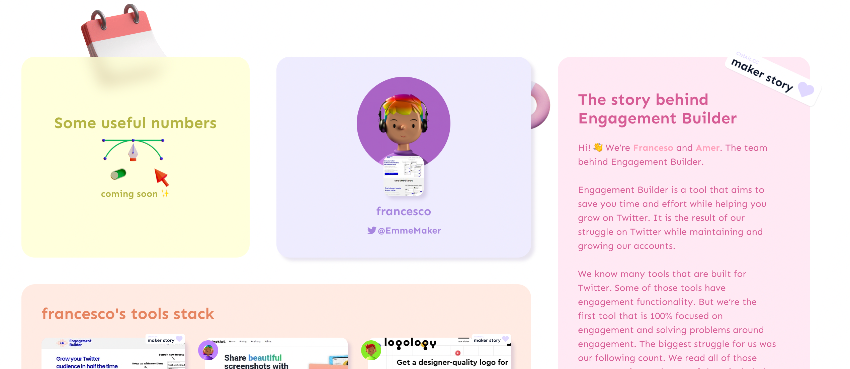 Link: ctrlalt.cc/profile/francesco
(and yes this bit did get a bit more colourful lately – go check it out on the site – would love to hear what you think!)
Until next time you can find me on twitter @nerddoingsocial 🐦

And if you know someone who would enjoy this newsletter, it would mean a lot to me if you can forward it to them too 😊

Daniela
_______
Founder & Maker