Hello, Daniela here 👋
I built CtrlAlt.CC to make it easier for you to find helpful tools for startup tasks & now I'm bringing a few cool products to your inbox, every so often.
Let's have a look at what's going on this week!
Product of the week #22
As mentioned last time, I'm working on a few ideas to increase the surface area of this newsletter and reach as many people as possible, so that more people read it & I get to write more issues 😃
This week I stumbled across an exciting cross-promotion opportunity that I just had to jump on (but don't worry I'll come back to video next time) Why is it so exciting? Because I am a huge fan of this content and I think you'll like it a lot!
Meet Business Brainstorms 🧠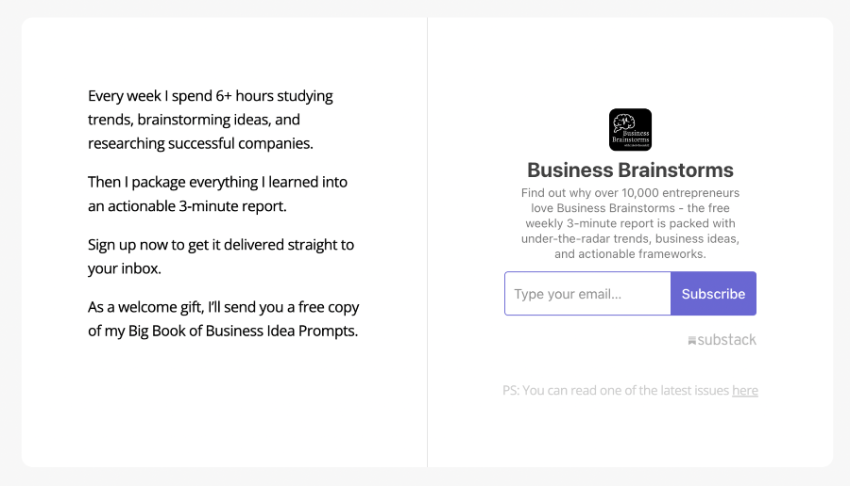 Website link: businessbrainstorms.com
Business Brainstorms is a no bs newsletter written by Jakob Greenfeld that in a nutshell will take you through the latest business trends and help uncover nuggets of information about successful businesses from a relatable, non-guru-like pov.
Jakob is a seasoned entrepreneur and brilliant writer who's created courses, offers services like brainstorming-as-a-service and built various useful products that gravitate around helping other entrepreneurs and anyone who wants to become one!
Business Brainstorms started as a "product ideas" newsletter and took a life of its own with time, as most things do if given enough space. It now contains sections on social listening, trend signals, a weekly framework, a business prompt, revenue signals, a business read, advice and shoutouts.
Whatever stage of your entrepreneurial journey you are on – this newsletter will come in very handy! And even more so, if you're stuck at the starting line struggling with what idea to pursue, when subscribing you'll get a free ebook containing business idea prompts to help you kick start your own journey 💜

And to keep with the newsletter theme, this week's maker story comes from Anthony who's building an indie community & is also writing a newsletter about AI trends!
Anthony's product: indieworldwide.com
and brand new newsletter: boteatbrain.com
"I started Indie Worldwide a few years ago. I was a digital nomad who wanted to become an Indie Hacker but wasn't sure what I should build yet. I started hosting local Indie Hacker meetups in whichever city I was visiting, but after doing that a few times I realized it was hard to keep the friends I made or to keep those meetups alive once I left. That's when I started working on an online meetup group for indie hackers: Indie Worldwide.
Indie Worldwide was not a business in the first year and a half it existed, it was a free community, mostly just a monthly video call. I wanted to increase 1:1 connections between members, so I started making introductions over email. A few members told me I should charge money because the calls were so valuable for them, so I did. Suddenly Indie Worldwide was a side-hustle.
By the time I started the newsletter, we already had a list of over 2,000 indie founders who'd joined at some point or another. I would occasionally email updates, but didn't think about publishing a newsletter until we got a sponsorship offer. Someone cold dm'd me to sponsor the Indie Worldwide newsletter, despite the fact that no such thing existed. Of course I said yes, and suddenly we had a once-every-month or so newsletter.
For a long while I tried to avoid making Indie Worldwide fully into a business. It was nice that it was making some money, but it still felt like a launchpad for my "real business" whenever I figured out what that was supposed to be. It wasn't run in a lean or easy to maintain way and of course I was still consulting almost full-time. That meant I'd sometimes struggle to keep up with Indie Worldwide tasks, or even put the community aside for months at a time to focus on the business that actually made significant revenue.
After finally going in full-time, a good portion of this year was spent un-coding (replacing things with no-code solutions) and so far, Indie Worldwide has made $18,079 in 2022. On track to at least double from 2021!"
Go ask Anthony any questions you might have ↓ 👀
(I wanted to find out "what made him pull the trigger & go full time on indie hacking"- can't wait to hear the answer 🤩)

Until next time you can find me on twitter @nerddoingsocial 🐦

And if you know someone who would enjoy this newsletter, it would mean a lot to me if you can forward it to them too 😊

PS don't forget to check out today's random product! It might be something super useful 🙂

Daniela
_______
Founder & Maker